Written by
Bretton Chatham
Bretton is an aPHR-certified member of the Marketing Team at Bernard Health. He writes about HR, compliance, and benefits solutions.
7 HR Compliance Best Practices for 2022
Posted on December 8, 2021 In
HR
, In
Compliance
12 min read time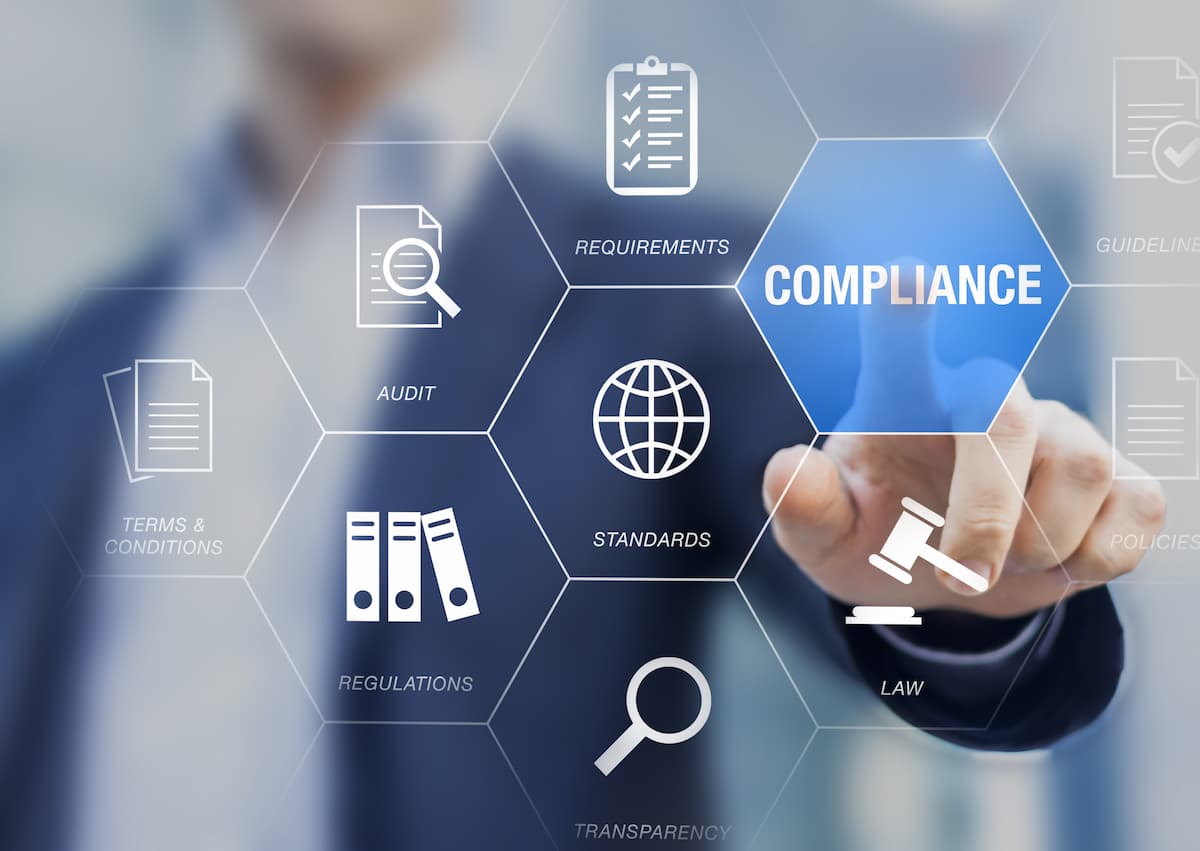 To be successful, HR pros have to balance many responsibilities competing for their time, from benefits administration to recruitment and retention. But compliance in particular comes with potential penalties and often takes priority over other responsibilities.
So, how can your team manage compliance with federal and state laws both effectively and efficiently? Here's what you need to know about HR compliance, including best practices.
What is HR's Role in Compliance?
Employment laws often have detailed requirements for notices, forms, classification, and reporting—all of which can lead to confusion for employers.
For example, employment forms—such as I-9s, 1095-Cs, W-4s, and more—must be filled out and filed at different times, according to different events in the employee lifecycle or annually on specified dates. Many of these forms are required by the federal government, but there are also state-specific rules and regulations for which HR is also responsible.
Generally, HR teams in small to midsize businesses are responsible for maintaining compliance in the following areas:
There's more to adding new team members than simply giving them a computer. Laws protect workers from discriminatory hiring practices while employers must collect certain information from new hires in specific forms, such as Form I-9. HR oversees this process—either from a high-level, strategic perspective or by actually recruiting, hiring, and onboarding employees.
While employers with fewer than 50 employees are not required by law to offer benefits—such as health insurance or retirement—many small to midsize businesses offer them as a way to retain and recruit talent. HR usually helps select and administer benefits during open enrollment. Several laws, like ERISA, regulate employee benefits.
While covered employers are required by FMLA to offer unpaid family and medical leave, others provide paid time off as a fringe benefit to attract and retain workers. It's often HR's responsibility to monitor and maintain appropriate compliance for time-off benefits in smaller organizations.
From genuinely dangerous worksites like shipyards and construction zones to corporate offices facing a potential COVID outbreak, OSHA compliance requires that proper steps be taken to protect employees from hazardous conditions.
Non-exempt vs. exempt. Overtime vs. hazard pay. Addressing unequal compensation. All of the above require HR's time and attention and a commitment to working across departments to ensure that the company remains compliant.
Terminations and Furloughs:
Understanding the difference between a furlough and a layoff is key to HR personnel management. Additionally, HR teams must be aware of distinctions between at-will employees, union-represented workers, and other types of employees, like gig workers.
Why is HR Compliance So Difficult to Manage?
HR pros in small to midsize businesses often struggle to stay current with changing regulations, and organizations operating in multiple states face even more complexity. Here's why compliance can be so challenging:
Compliance isn't optional.
Forms and notices in particular can be tricky because they demand full compliance in order to avoid penalties. The Department of Labor requires employers to distribute specific notices throughout an individual's employment and to document employee acknowledgment of each required notice. Likewise, the IRS requires employers to report compensation, tax withholding, and certain benefits such as health insurance.
Regulations change regularly.
As employment laws change with the needs of the workforce, HR teams must stay up to date on the latest laws and regulations in order to keep their organization fully compliant. HR must keep up with which notices are required by law and comply with the specifics of each as well as fill out and file forms correctly and on time.
Employee participation is unpredictable.
Unfortunately, staying notice-compliant isn't always predictable since it depends on a key variable: employee participation. Each of your employees has their own set of responsibilities, and often your priorities aren't theirs. As a result, HR constantly finds itself spending significant time and effort tracking and collecting signatures from employees.
Recordkeeping can be burdensome.
Even when you've tracked down every employee and collected the signatures you need, you're not quite done. You still need to document each employee's acknowledgment of all received notices. Similarly, for forms like W-2s and 1095-Cs, employers must furnish copies to each employee and file with the government. If you've got more than a handful of employees, maintaining all of these records can be a huge administrative burden.
HR Compliance Best Practices
In light of the scope and the stakes of compliance, it helps to have habits, routines, and processes in place to make your team more effective and efficient. Here are seven best practices for HR compliance:
1. Monitor Legal Changes
HR must always stay up-to-date on federal and state regulations. Labor laws often evolve in response to changes in the workforce, which means that administrators must find a way to monitor these changes in order to stay compliant.
The best way to keep up with the latest labor laws is subscribing to updates from federal and state departments of labor, the Society for Human Resources Management (SHRM), and our BerniePortal blog. These subscriptions will alert you to changes in both local and federal laws that might impact your business.
2. Designate an Individual to Manage Notices
Managing compliance involves much more than managing notices, but notice compliance could almost be an area of responsibility all to itself. In fact, one of the best ways to keep your employee-notice regimen compliant is to designate an official "notice handler."
By choosing a single staff member to manage notices, you'll have more administrative consistency and specialized expertise, and it'll reduce the likelihood of error due to miscommunication. (If you're an HR party of one, however, then it's up to you!)
3. Focus on Hiring the Right People
Of course, it's important to comply with laws and regulations regarding hiring—such as the ADA and FLSA—to avoid discrimination and ensure fairness. But HR should also use its strategic role in overseeing the process to make sure your organization sets high standards and hires candidates who appreciate the importance of compliance.
Onboarding is also an opportunity to set the tone for new hires and should emphasize your organization's culture of compliance.
4. Document Your Procedures
HR should document your compliance management procedures. By putting a procedure in writing, HR administrators can establish an expected course of action that increases consistency and accuracy. Include your policies and procedures in your company's Culture Guide or employee handbook and update it on a regular basis.
This can be especially valuable considering the high turnover rate in the U.S. workforce. The clear and detailed documentation of internal procedures allows you to maintain consistency even as different people move in and out of the roles responsible.
5. Cultivate Workplace Transparency
Transparency is key when it comes to compliance. Your employees should know what's expected and why. HR and leadership should not only communicate, but also demonstrate a commitment to compliance.
Similarly, notices should be accessible to employees after they've read and signed their acknowledgement. Workers should be able to review them from a convenient location such as the company intranet. By maintaining this level of transparency, you also allow others to hold you accountable, which means less risk of error and noncompliance penalties.
6. Lead Regular Compliance Training
In many small to midsize businesses, HR is not only responsible for compliance, but also for training staff and management. So, naturally, if you want to improve compliance in your workplace, coach your workforce in best practices, too.
Consider setting aside time on a regular basis to update your office on the latest laws and regulations affecting your industry or state. Dedicated training time is also ideal for giving practical compliance advice and offering opportunities to implement through practice, such as roleplaying.
7. Conduct HR Audits
The primary goal of an HR audit is to identify areas within your company that need improvement, including compliance. Approach an audit as a systematic review of every HR function, using a simple checklist.
Part of this may also include whether your organization's recordkeeping policy complies with requirements posted by the federal government. Appropriate recordkeeping allows for more efficient compliance examinations and avoids the costly consequences of missing records.
How to Implement HR Compliance Best Practices
A robust all-in-one HRIS like BerniePortal can help you implement HR compliance best practices. BerniePortal features compliance tools that empower HR teams to keep employees updated and compliant with streamlined ease and simplicity. You can:
distribute notices.

collect signatures.

consolidate data.

document compliance.

monitor participation.

send reminders to employees.
By using an HRIS, you can more efficiently manage the processes mentioned above, meaning you have more time to focus on your people and your business.
Additional Resources
You can stay informed, educated, and up-to-date with HR compliance and other important topics using BerniePortal's comprehensive resources:
Written by
Bretton Chatham
Bretton is an aPHR-certified member of the Marketing Team at Bernard Health. He writes about HR, compliance, and benefits solutions.