Written by
Bretton Chatham
Bretton is an aPHR-certified member of the Marketing Team at Bernard Health. He writes about HR, compliance, and benefits solutions.
Back to Blog
Highlights from Weekdays with Bernie 2022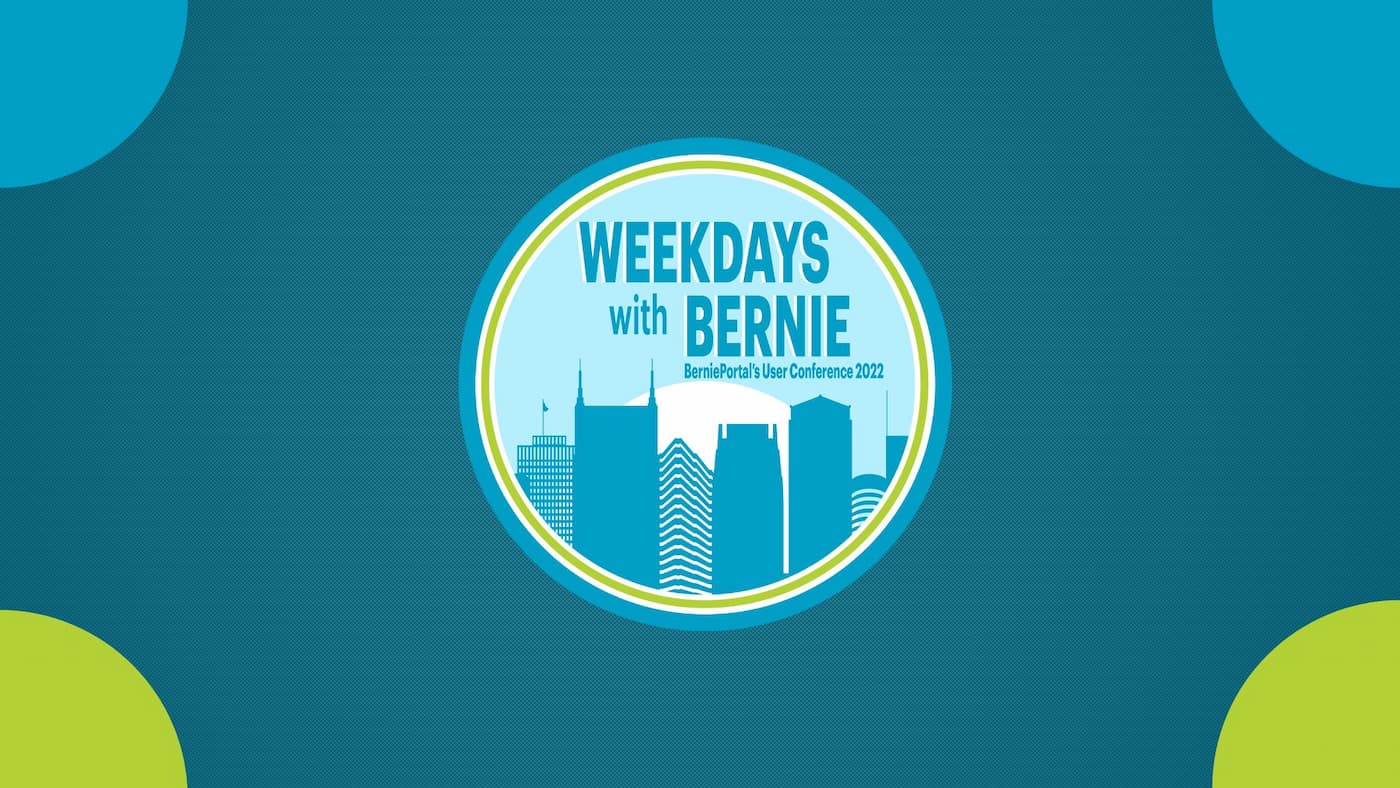 Each year, HRIS platform and company BerniePortal convenes hundreds of HR industry leaders and innovative thinkers for best-in-class learning opportunities, networking, and strategic solution-oriented sessions—plus the chance to earn CE credits for attending.
This year's Weekdays with Bernie was BerniePortal's second hybrid conference, which included both in-person and virtual experiences.
Our speakers gave attendees tools on how you can better engage your employees, build your culture, and manage your time—and so much more! Keep reading for a recap of Weekdays with Bernie 2022!
How to Elevate Your Organization with Takeaways from Weekdays with Bernie 2022
Weekdays with Bernie 2022 proudly featured a keynote address from Heather Younger and general session presentations from Andrew Mellen, Larry Van Horn, and Karin Hurt. Here are key takeaways from each speaker:
Heather Younger, Seize the Opportunity: Reimagining a Better Workplace in a Post-COVID-19 World
Heather Younger—best-selling author of The 7 Intuitive Laws of Employee Loyalty and founder of Customer Fanatix—gave a dynamic presentation, where she engaged participants and challenged them to think differently about their organizations.
In her keynote address, Younger presented her empowering framework for creating a more creative and innovative workplace–the direct result of her observations of employees, which revealed how many never had the opportunity to speak their minds even when they had valid ideas and opinions.
Through her work, Younger wants to give a voice to those that traditionally are not given a chance in their workplace. She believes that shifting an organization to one that's employee-centered will ultimately lead to long-term success.
Andrew Mellen, Calling BS on Busy
International speaker, coach, and WSJ bestselling author Andrew Mellen left attendees inspired and motivated, speaking to the idea that time is the greatest non-renewable resource at our disposal. Whether it is used well or not used at all, once it's gone, it's gone. Mellen delved into the reasons we waste time and how to shift our perspective on time management.
According to Mellen, several causes of lost time include:
—procrastination
—doing other people's work
—indecision
—not putting things away
—email
—multitasking
—indulging in perfectionism
Mellen dug deep into how managing time has more to do with managing ourselves. He urged attendees to be fully present, arguing that it's imperative that we shift our mindset toward what we can impact right now. He went on to discuss the time- and self-management process in greater detail, including what it truly takes to win: "Winners do what they have to do; everyone else does what they want to do."
Larry Van Horn, The Evolving Role of the Employer in US Healthcare
Healthcare economist and Vanderbilt University researcher Larry Van Horn discussed how the US healthcare industry has changed over decades with a particular emphasis on price transparency and innovations in pricing models.
Prof. Van Horn drew on his original research as well as others' data to show how the lack of transparency in healthcare pricing leads to such a wide variation that patients cannot effectively make decisions about what medical care to seek or from whom. This also leads to harmful misunderstandings about how the system works and what they can expect from it. He concluded with an exploration of several innovative hospitals and medical practices that are leading the way into more transparency.
In his presentation, Prof. Van Horn also recounted how he approached the Trump administration about mandating more price transparency in healthcare, a meeting which eventually led to former President Trump's 2019 executive order. The Biden administration has upheld—and recently began to enforce—the executive order, and Van Horn is cautiously optimistic that patients and employers will be better positioned to make more cost-effective healthcare decisions in the near future.
Karin Hurt, Courageous Cultures: How to Build Teams of Micro-Innovators, Problem Solvers, and Customer Advocates
Karin Hurt—award-winning author of four books, including Courageous Cultures—motivated and inspired attendees, providing the necessary tools for human-centered leaders to drive innovation, productivity, and revenue without burning out employees in the process.
Using groundbreaking new research in innovation and problem-solving, Hurt shared techniques to help build more creative and solution-oriented teams by specifically addressing what she calls FOSU–Fear of Speaking Up. In her presentation, attendees learned why employees don't speak up or offer their ideas and solutions more frequently. She challenged and guided participants to find ways to encourage more employee participation.
Karin Hurt is the host of the popular LinkedIn show, Asking for a Friend, and she was recently named by Inc. Magazine as a "Top 100 Great Leadership Speaker."
Congrats to Our Weekdays with Bernie Award Winners
Here are our Weekdays with Bernie 2022 award winners:
Bernie BFF
This award goes to two winners who were most engaged with BerniePortal in 2021:
BerniePortal Boss
This award goes to up to five winners who added the most employees to BerniePortal in 2021:
Weekdays with Bernie MVP
This award goes to the attendee with the most WWB spirit and is chosen at the conference:
Michelle Woodbury at Affiliated Associates
BerniePortal Broker Council
This year, we also recognized the members of our inaugural BerniePortal Broker Council, comprised of some of the best broker minds in the business:
We handpicked these five agencies from across the country to provide essential feedback so we can continue to maximize our value to employers.
At Weekdays with Bernie, our Broker Council met for a pre-conference session and later paneled a breakout session—How to Start Employers off Right on BerniePortal—for attendees.
What's New with BerniePortal?
BerniePortal founder and CEO Alex Tolbert took the stage at Weekdays with Bernie to share the platform and company's latest updates, including new product and service-level enhancements. He also shared his findings on how the HR/Benefits/Payroll software industry has evolved in the last 12 months and what BerniePortal hears from HR about what they need most from their vendor partners—and what it means for you.
Among the list of exciting BerniePortal updates, Tolbert announced BerniePortal's new Payroll feature. This exciting new feature stems from BerniePortal's passion for continually evolving its software to meet clients' needs. With a seamless flow from BerniePortal's PTO, Benefits Administration, and Time & Attendance features, the ability to run Payroll will complete the employee lifecycle and eliminate the need for multiple systems. This new feature can be seen through a full-service demo by BerniePortal's product specialists starting immediately. Schedule a demo today.
Tolbert also highlighted BerniePortal's plan to continually improve BerniePortal's service offerings by introducing the Operations Team. The Operations Team is made up of BerniePortal specialists who are in charge of build-outs and ensuring our clients are onboarded smoothly and efficiently to the platform. Clients can expect quick response times and personalized help thanks to this new service model.
Additionally, Tolbert outlined BerniePortal's ecosystem updates and the company's plan to continue its efforts to offer a more streamlined approach to pulling data from BerniePortal for eligibility and billing purposes. Billing issues have been identified as a significant source of friction between brokers and employers, and BerniePortal is working to resolve these issues one step at a time. These improvements will allow small employers to offer more robust benefits to compete with large employers.
Additional Resources
You can stay informed, educated, and up-to-date with important HR topics using BerniePortal's comprehensive resources:
Written by
Bretton Chatham
Bretton is an aPHR-certified member of the Marketing Team at Bernard Health. He writes about HR, compliance, and benefits solutions.