Written by
Will Miranne
Will is an aPHR-certified writer on the marketing team at BerniePortal. He writes about healthcare, human resources, and benefits.
Back to Blog
WWB Recap: Andrew Mellen–Calling BS on Busy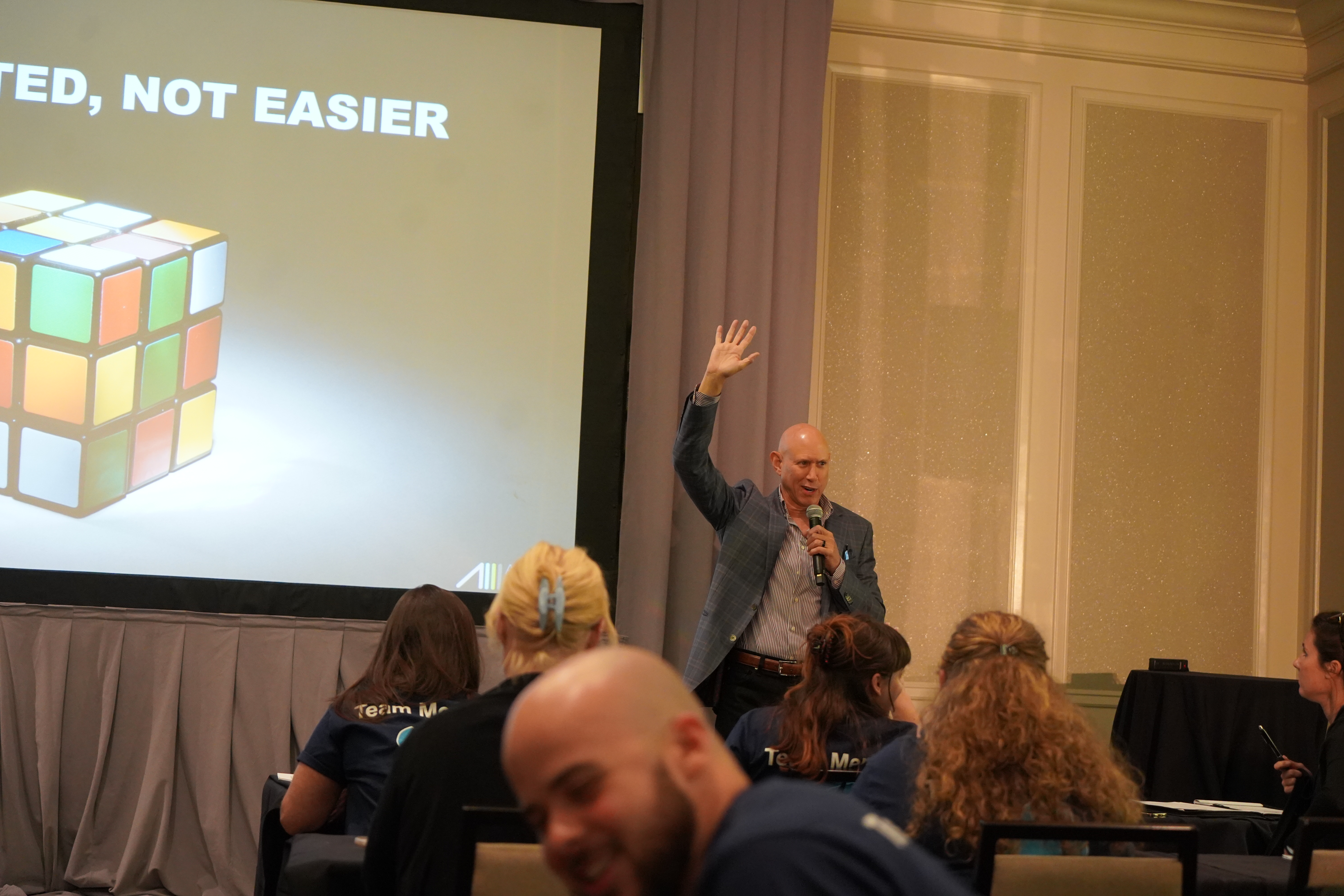 International speaker, coach, and WSJ Best-selling author Andrew Mellen left attendees inspired and motivated at this year's Weekdays with Bernie Conference. Mellen spoke to the idea that time is the greatest non-renewable resource at our disposal. Whether it is used well or not used at all, once it is gone, it is gone. Mellen delved into why we waste time and how to shift our perspective on time management.
Read on as we lay out the what, why, and how of "Calling the BS on Busy" according to Andrew Mellen.
What Is Lost Time?
Lost time is time that can never be regained. Unlike many resources in our lives, time is entirely non-renewable. According to Mellen, several causes of lost time include:
Complaining

Commuting

Gossiping

Doing other people's work

People pleasing

Watching tv

Handing with negative people

Procrastination

Indecisions

Interruptions

Social media

Poor planning + winging it

Making empty promises

Not putting things away

Solving the same problem

Overcommitting

Eating your feelings

Unnecessary meetings

Criticizing yourself

Email

Picking fights

Not capturing ideas in real-time

Indulging in perfectionism

Multitasking
These sources of lost time can stem from many factors and affect every employee regardless of occupation. Many of these factors show up daily, making it difficult to even recognize them as a hindrance. As an example, an employee might plan to take 5 minutes to look through their email, and sure enough, when they check the time, 45 minutes have gone by.
Mellen teaches the value of restructuring our day specifically to avoid these common pitfalls by:
Avoid checking email. Never check your email unless you are prepared and have the time to respond. There is no good reason to check email when you know it will create a distraction from your current priorities. Mellen even goes so far as to say that teams should utilize software such as Slack or Teams to avoid internal emailing. Sending messages via these communication platforms will provide a more streamlined way to send quick messages or answer questions.

Admit that busy is the new stupid. We tell ourselves different stories daily, like "there just isn't enough time" or "I just don't know where to start," but these stories are all the same. They are distractions from what matters. Every person can take one step forward. So the goal is to put one foot in front of the other and take each step one at a time until we get moving again.
5 Time Management Tips from Andrew Mellon
Mellen dug deep into the effects of lost time and how managing it is all about managing ourselves.
Time your everyday routines. Timing your everyday routines can be beneficial to creating better time management. This can include brushing your teeth, taking a shower, and making breakfast. We often make assumptions about how long tasks will take us, but it can help to attach a physical number to these individual tasks. Once we have a clear time frame, we can begin to organize our lives in a more efficient way.

Set a "No Meeting without an Agenda" policy.
Another way Mellen organizes his time is by setting a strict meeting policy that says no meeting will occur without a set agenda. requests a meeting without an agenda, he will decline the meeting. An agenda and handouts should be sent at least 24 hours in advance so all parties can prepare for the meeting.
Set time limits. Mellen says you should work no more than 3 hours and no less than 15 minutes at any given time. If you work less than 15 minutes, you are not giving yourself enough time to engage in the work. Mellon says that working beyond 3 hours without a break can cause your quality of work to decline.

Know the difference between urgent and important. Remember when you begin your work that there is a difference between what is urgent and what is important. We often delay what is important for what is urgent, but this is a false narrative. Mellen stresses that there is always time for what is important, and despite what we think, we all have the power to return to this.

Follow the "80/20 Rule:" Pareto's Principle says that 80% of an output accounts for about 20% of the input. Translated into business terms, 20% of what we do accounts for approximately 80% of our success. One way to determine what is important and what Is worth our time is determining what that 20% is and then organizing our time to account for it. The key to finding success in your job, life, and anything you choose to do is creating order where there is chaos.
How Does a Distraction Differ from an Interruption?
Mellon also pointed out the difference between distractions and interruptions. A distraction is something internal that takes our attention away from the tasks at hand. Examples of distractions include:
Checking your phone unprompted

Following the rabbit hole of a sudden thought

Finding different chores to accomplish

Checking email
Distractions are self-made and can be avoided by creating internal boundaries and safeguards. Give yourself time to step away from the desk every once in a while. Use the Pomodoro method and move around after working consistently on a task for an extended period of time. The Pomodoro technique involves working for 25 minutes and then taking a 5-minute break.
Interruptions occur at the behest of another person. Unlike distractions, interruptions can often be out of our control, but they can still be avoided by setting proper boundaries. A phone ringing can be considered an interruption, but we can choose to silence our phones during work hours to ensure we minimize it as a distraction. Let the people closest to you know that you will not have your phone at hand while you are working. This is a clear boundary that can save you numerous interruptions each day. Another way to clear out distractions is to add communication channels to ease communication within your team. Offering a quick response via a chat feature can save your team time instead of being interrupted or getting distracted by email.
It is important to understand the difference between these two time-killers. Knowing this information can help you address the issues causing you so much lost time in your life. Clarify your concerns and take the necessary measures to ensure they are kept to a bare minimum.
Additional Resources
You can also stay informed, educated, and up-to-date with Weekdays With Bernie and other important topics by using BerniePortal's comprehensive resources:
Written by
Will Miranne
Will is an aPHR-certified writer on the marketing team at BerniePortal. He writes about healthcare, human resources, and benefits.