Written by
Bretton Chatham
Bretton is an aPHR-certified member of the Marketing Team at Bernard Health. He writes about HR, compliance, and benefits solutions.
Back to Blog
OSHA Releases Biden Vaccine Mandate for Private Employers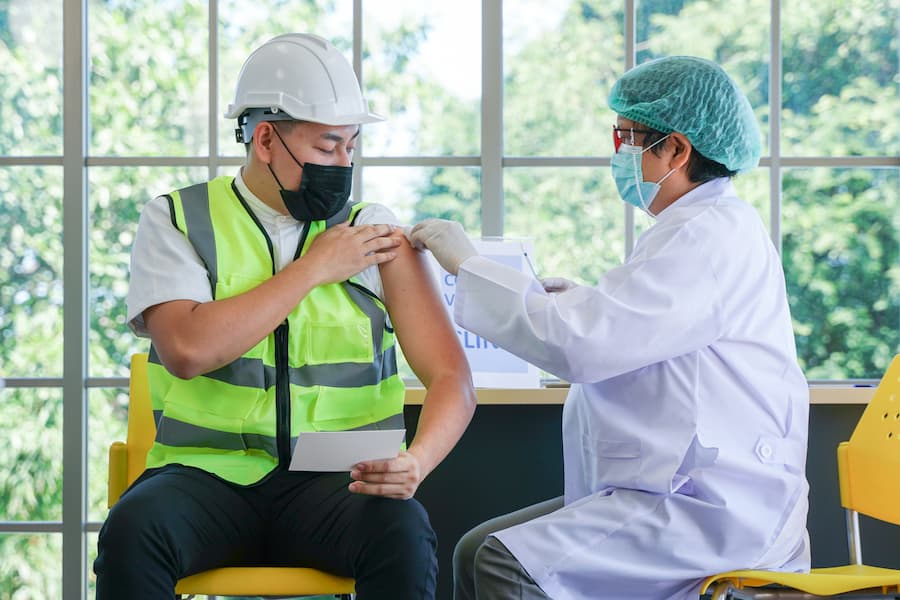 It's been over two months since President Biden announced a federal COVID vaccine mandate for private employers. He directed the Occupational Safety and Health Administration (OSHA) to draft an emergency temporary standard (ETS) to that effect, and on November 4, OSHA made the details public.
The ETS went into effect November 5, when it was published in the Federal Register. Employers will have 30-60 days after publication to comply with its various requirements. Find out more about this new rule, including who it affects, what it requires, and how to prepare your organization.
Note: Since publication of this article, the Supreme Court has blocked OSHA's ETS. For more information, see this updated article.
What's the Federal Vaccine Mandate?
On September 9, in a televised address to the nation, the President outlined several sweeping actions from his administration to better control the pandemic. They included new executive orders and federal regulations to mandate COVID vaccination for large private employers, most federal agencies and government contractors, and all healthcare providers who receive Medicare and Medicaid reimbursement, ultimately affecting over about two-thirds of the workforce.
The speech included many other COVID regulations and responses as well, such as calling on large entertainment venues, like concert halls and sports arenas, to require proof of vaccination or a negative test to attend their events.
Biden's Executive Order requiring vaccination for all federal workers and millions of federal contractors went into effect immediately, but private employers have been waiting for almost two months for further clarification from OSHA. Unlike the OSHA ETS, the executive order does not provide for a testing option. Federal contractors should note that, on the same day the OSHA rule was released, the White House announced it would extend the executive order compliance deadline to January 4, 2022, to coincide with OSHA's rule for private employers.
What is Required by the Federal Vaccine Mandate?
OSHA's ETS requires private employers with 100 or more employees to implement and enforce a policy mandating COVID vaccination or weekly testing and masking for workers who remain unvaccinated.
When Does the Federal Vaccine Mandate Go Into Effect?
Although the rule went into effect November 5, employers will have 30 days after publication in the Federal Register to comply with most provisions and 60 days to comply with the testing provision. In other words, employers must develop and implement their policies by December 5. Starting on that date, unvaccinated workers must wear masks, and starting on January 4, 2022, they must provide employers with proof of a negative COVID test weekly.
This timeline became less likely on November 6 when the US Court of Appeals for the Fifth Circuit in New Orleans temporarily blocked the ETS. On November 12, the court reaffirmed its decision, granting a motion to stay. In response, OSHA issued this statement:
While OSHA remains confident in its authority to protect workers in emergencies, OSHA has suspended activities related to the implementation and enforcement of the ETS pending future developments in the litigation.
With legal challenges pending in several states, cases were consolidated and randomly assigned to the US Court of Appeals for the Sixth Circuit in Cincinnati on November 16, removing the Fifth Circuit's jurisdiction over the matter.
On December 3, the Sixth Circuit denied OSHA's motions to expedite the briefing schedule and to transfer the case back to the Fifth Circuit. Although this means the court will not be making a final decision anytime soon, it's still possible that OSHA's motion to dissolve the temporary stay could be granted before the holidays while the consolidated case plays out in court.
Who Should Employers Count for the Federal Vaccine Mandate?
The ETS clarifies that the 100-employee threshold will include counting workers—regardless of vaccination status—in all locations in which a business operates. Part-time employees will also count, but independent contractors will not. Additionally, remote workers and employees who primarily perform their duties outdoors will count toward the threshold but do not have to comply with the mandate. Under these guidelines, the vaccine mandate is expected to cover about 80 million employees but only 2.5% of private employers.
What Else is Required by the Federal Vaccine Mandate?
OSHA's rule also requires employers provide at least 4 hours of paid time off for employees to receive and recover from the COVID vaccine. However, employers are not required to pay for testing or masks for unvaccinated workers.
Does the Federal Vaccine Mandate Apply to OSHA-Approved State Plans?
According to OSHA's ETS FAQs, the 26 states that operate their own OSHA-approved plans must adopt an ETS that is "at least as effective as" the federal OSHA rule. Additionally, individual State Plans must cover state and local government workers—including public school faculty and staff.
Recently, OSHA threatened to revoke the State Plans of Arizona, South Carolina, and Utah after those three states failed to adopt the earlier Healthcare ETS—or an equal alternative—that OSHA issued in June.
How to Prepare for the Federal Vaccine Mandate
The first step toward compliance is for employers to develop and implement a mandatory vaccination or weekly testing policy for their employees by December 5. OSHA's website provides templates that HR teams may use for their own organizations.
Employers also need to consider how they will:
collect proof of vaccination

maintain records for weekly negative tests

track paid time off for employees to receive and recover from vaccination
For more information on how to prepare for the federal vaccine mandate—including how BerniePortal can make it easier—check out
this comprehensive article
.
Written by
Bretton Chatham
Bretton is an aPHR-certified member of the Marketing Team at Bernard Health. He writes about HR, compliance, and benefits solutions.