Written by
Will Miranne
Will is an aPHR-certified writer on the marketing team at BerniePortal. He writes about healthcare, human resources, and benefits.
Back to Blog
Pride Month: How to Cultivate An Inclusive Workplace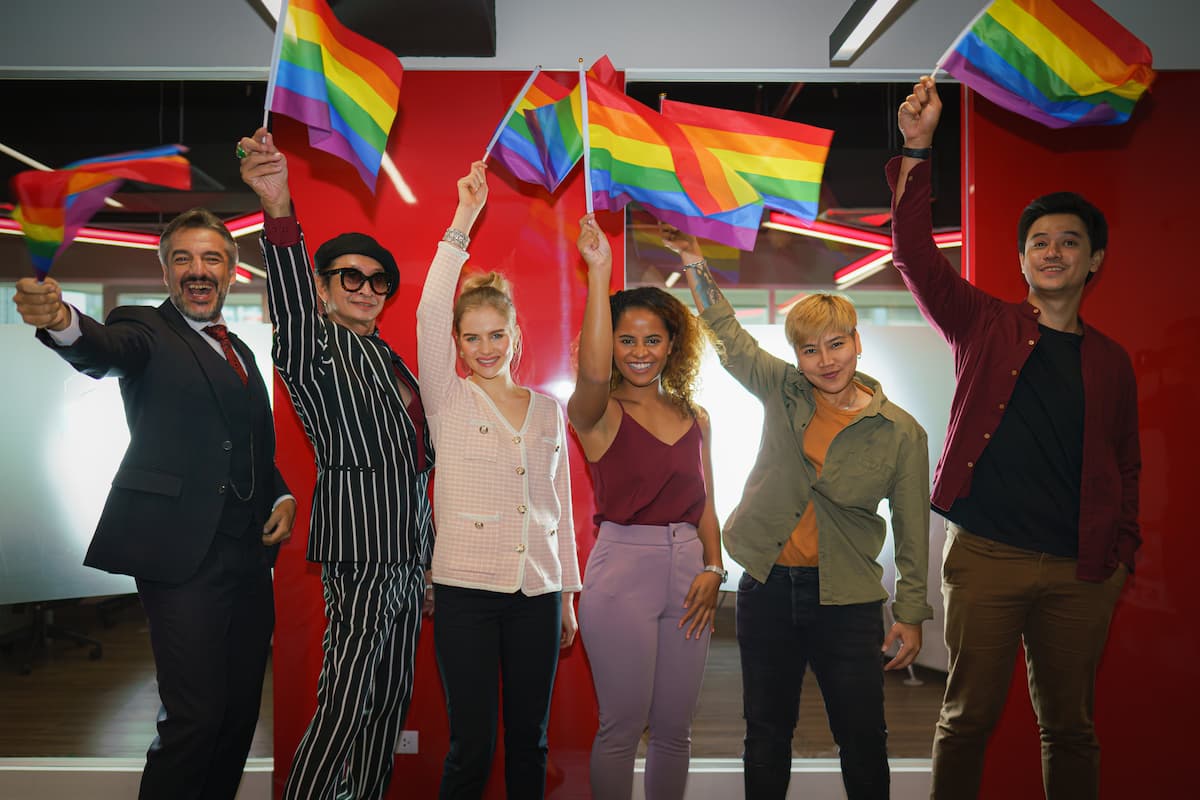 Inclusivity is a critical piece of organizational success. It directly impacts company culture, which influences the overall success of an organization. Individuals who identify as LGBTQ+ deserve the opportunity to feel included without the fear of being rejected or feeling like outsiders. In order to successfully create a workplace where all employees feel comfortable being themselves, you have to take time to understand their concerns and actively work to address them.
In this article, we'll cover the basis of inclusion policies, how they can be created, and how they can affect the overall success of your organization.
How Does Underrepresentation Impact Organizations?
Underrepresentation can lead to a sense of alienation within a team. This loneliness can lead to increased stress and anxiety levels, which can impact a team's dynamic.
Positive culture within an organization is built around teamwork and group trust. When an employee feels left out, it can pull the entire team out of sync. This is why it is so vital to recognize areas of underrepresentation within your organization. This stress can affect members of any group—including the LGBTQ+ community—who are made to feel like outsiders.
According to a study by McKinsey, 5.1% of women in the US identify as LGBTQ+ while 3.9% of men identify as such. However, the number of LGBTQ+ individuals represented in management roles or corporate settings is a much lower percentage than in society at large. LGBTQ+ men make up only 2.8% of managerial positions. The representation difference for LGBTQ+ women is even more significant than that of men, making up only 1.6% of managerial roles.
Create Effective DEI Programs
The first step to creating a more inclusive workplace is formulating a diversity, equity, and inclusion (DEI) initiative. The process of creating DEI policies within organizations takes time and strategic effort.
Employers need to assess the currently unmet needs in their workplace and determine an approach that will prove effective. Michelle Wimes, senior vice president and chief equity and inclusion officer for Children's Mercy Hospital in Kansas City, MO, says, "True progress in DE&I takes conscious, deliberate action, a willingness to acknowledge and address the equity gaps head-on."
For organizations looking to improve their DEI, asking the right questions is a great place to start. Here are some examples to consider:
What is your overall culture? Is it collaborative? Does it allow for inclusion?

What is the basis of employee satisfaction?

Do you have a mentorship program?

Are employees involved in group dynamics and cross-team collaboration?

What is the process of moving up the ladder?

What is the hiring process?
Great DEI requires sustainable solutions that adapt when necessary. Here are five ways your organization can establish a long-term DEI plan:
Focus on the future. Rather than wait for an issue to arise, set up initiatives now with long-term goals in mind.

Understand the impact DEI will have on your organization. All successful business strategies need to reflect positive financial outcomes for the business. Discern how DEI will affect the bottom line.

Create a practical plan for your vision. Once you establish your vision, find tangible ways to achieve it. Use the scientific method to make observations, create hypotheses, and test those hypotheses.

Set yourself up for success. Focus your efforts on boosting employee engagement. Make your office an environment that promotes employees' natural talents. Be frequent with feedback, and ensure that employees feel seen and heard.

Establish a connection with your employees. Employees who claim to connect with their employers are seven times more likely to stay at that organization. Mentorship, group activities, and regular 1:1 meetings can all help to foster positive connections
Foster a Safe Place for All Employees
The modern workplace has become much more accepting of those who identify as LGBTQ+, and laws prevent discrimination against certain members. The US Supreme Court determined in the Bostok v. Clayton County Case in 2020 that Title VII of the Civil Rights Act of 1964 would protect individuals from employment discrimination based on sexual identity and sexual orientation. However, there are still struggles that these individuals face each day within all industries.
LGBTQ+ employees can often feel nervous about coming out for fear of discrimination, hearing comments and jokes, or even feeling a sense of disconnect within their place of work. Creating a safe space for LGBTQ+ employees is less about tolerance and more about acceptance. While most organizations are entirely tolerant toward employees with LGBTQ+, not all organizations take the time to create a place where these individuals feel safe and heard.
This process begins with creating a workplace where these individuals can comfortably be their authentic selves without fear of mistreatment. Teams need all hands working together to accomplish their goals. For this to occur, individuals identifying as LGBTQ+ need to feel comfortable within the group.
Ask More Questions and Gather Feedback
One way to foster more inclusivity is to have meetings where you as a team can discuss how to best be an ally to these individuals. How can your team go beyond acceptance? How can you ensure these individuals feel comfortable enough to contribute alongside the rest of your team?
Asking questions is key to building an inclusive workspace. Acceptance can happen with no interactions, but asking questions shows these individuals that you are not just looking to follow the rules, but are genuinely interested in how you can help make them feel welcome and acknowledged.
Reach out to groups of currently underrepresented employees and ask for their thoughts on any topic that may be of concern. Learn what is really happening for them and actively work to address it.
Build on Past Mistakes
It's okay if mistakes have been made in the past. The purpose of fostering better workplace inclusion policies is to improve upon what is already in place. The best thing you can do is to accept that there have been past issues and make it clear that you intend to correct those concerns.
If you can accept responsibility and recognize that you failed in your attempts to be inclusive, you can try again and work toward something that will work the next time. Inclusion policies take time, effort, research, and trial and error. Each employee deserves the opportunity to contribute to the team's success. So give these individuals every opportunity to succeed by devoting your time and energy to developing an effective inclusion policy within your workplace.
Additional Resources
You can also stay informed, educated, and up-to-date with inclusion policies and other important topics by using BerniePortal's comprehensive resources:
Written by
Will Miranne
Will is an aPHR-certified writer on the marketing team at BerniePortal. He writes about healthcare, human resources, and benefits.