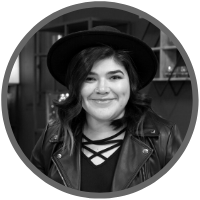 Written by
Ellen Rex
Ellen is an aPHR certified digital marketer on the BerniePortal team who writes about HR technology, resources, and new releases.
HR's Guide to 1095-C Forms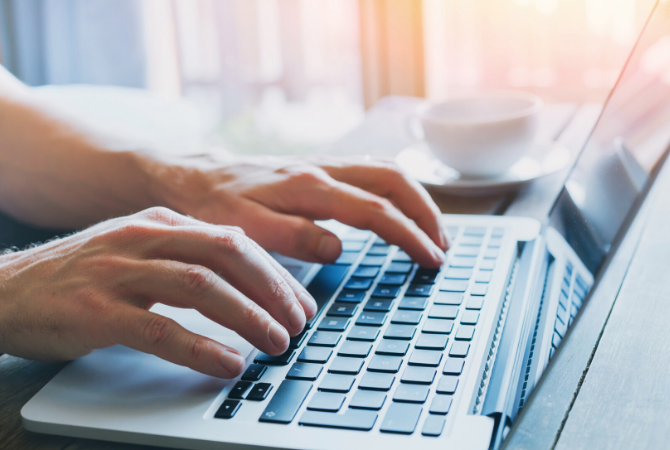 *This blog is adapted from the second episode of HR Party of One, HR's Guide to 1095-C Forms, which you can view below.

Today we're talking about 1095-C forms – because there's not much that HR professionals love more than tax forms.
Disclaimer: For the avoidance of doubt, I'm not your attorney or your tax advisor. If I were, I'd probably be charging you.
This topic is topical and relevant in first quarter every year – these are the forms that ensure employers are compliant with the Affordable Care Act's employer mandate.


1095-C Deadlines
1095-Cs need to be provided to employees by January 31, 2020, and filed with the IRS by February 28, 2020 if filing by paper, or electronically filed by March 31, 2020. Also, if you have more than 250 1095-Cs to file, you're required to file automatically.
*Note: for the 2019 Tax Year, the IRS has extended the deadline for mailing to employees to March 2nd, 2020.
So likely, you've already got these in the works to get to employees in the next week or so.
It's worth asking - how much of a hassle was handling the 1095-Cs this year? And why do we have to file them in the first place?

The History of 1095-Cs
1095-Cs are a product of the Affordable Care Act, or Obamacare – that 2010 law that's been the source of a million headlines, and for some, a million headaches, since then.
The ACA did a lot – it's a massive law. But one of the things that most employers are aware of is that it created the Employer Mandate. This is the law that requires any "Applicable Large Employer" to provide a group health coverage option to these employees, or pay a fine. That coverage also has to meet certain standards. This part of the law went into effect in 2015, and the first 1095-Cs were filed in 2016.
What's an 'Applicable Large Employer? Any employer with 50 or more employees, or full-time employee equivalents. According to healthcare research and philanthropy organization the Robert Wood Johnson foundation, more than 1.6 million businesses are required to offer group benefits through this mandate.
For many employers, the employer mandate was business as usual, except for having to file a new tax form.
That's because many organizations have offered health benefits for decades, well before the Affordable Care Act, to boost recruitment and retention of employees.
In fact, employers have been offering group health coverage since at least World War II, when the federal government implemented wage caps to curb inflation. Here's a quick timeline-within-a-timeline: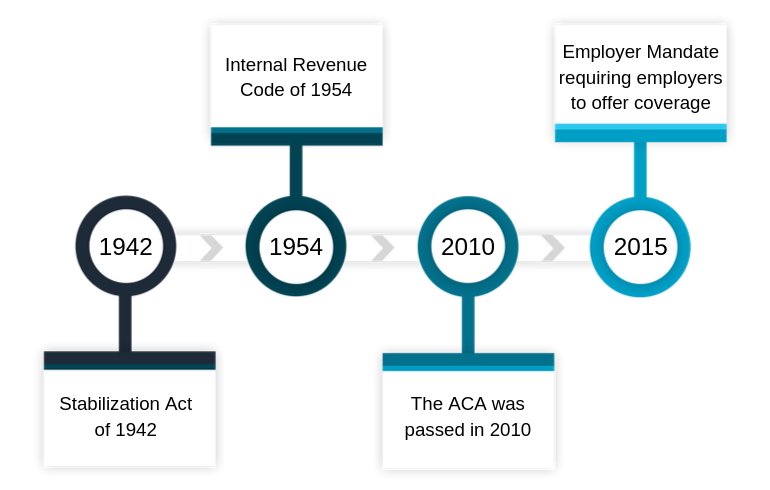 Due to rising inflation during the war, Franklin Roosevelt signed into law the Stabilization Act of 1942, implementing a wage freeze. Employers couldn't offer employees higher pay, and had to think of creative ways to attract and keep the best employees. So what did most employers do? Start offering group health benefits to employees.
If employers were not previously offering health insurance, they began to offer it. If employers were already offering it prior to 1942, they offered better benefits. Tax code regarding employee-based insurance at the time was ambiguous - many employers offered benefits tax free to employees, but it wasn't explicitly stated that doing so was legal.
Fortunately, the Internal Revenue Code of 1954 explicitly excluded employer-provided health insurance from what would be an employee's gross income. This allowed employers to write health insurance off as an expense and employees to reap these benefits tax-free. With the IRS's tax-exempt blessing, more employers offered group health insurance. With such a huge tax incentive, it would be unwise for employers not to offer health insurance to their employees.
Then, the ACA was passed in 2010, and the Employer Mandate requiring employers to offer coverage went into effect in 2015.
So that's how groups of all sizes began offering health coverage. But before the ACA, doing so was at the discretion of the employer, and some chose not to, for cost or other reasons. For some groups, especially those right around 50 employees, having to offer coverage represented a big lift. The Robert Wood Johnson foundation reports there's about 200,000 businesses with 50-99 workers.
But these groups were required to start offering coverage all the same, and the 1095-C is how the government kept track.
So for these employers, who maybe weren't offering benefits before, and unsure of why they had to now, it's worth exploring a little bit of the thinking behind the employer mandate. And then we'll get to how to make handling this year's forms super easy and simple.
ACA Employer Mandate
In general, the ACA wanted to reduce the uninsured rate - get more people health insurance coverage. Before 2013, which is when the major coverage provisions of the law went into effect, the uninsured rate was 44 million Americans, or 17 percent. Requiring employers to offer coverage was one way reduce the uninsured rate, in addition to reforms that made it easier for consumers to get coverage as individuals.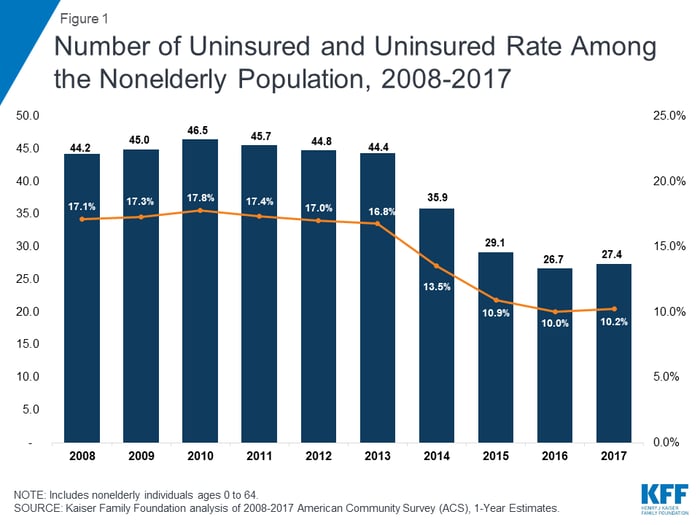 Now, I just gave you some facts. To be clear, I'm not trying to be political here. I've just tried to give you some insight into what the law's authors intended. You might be a supporter of Obamacare or in opposition to Obamacare, but it's what got us here.
And today, the law has seen some changes from the Trump administration, but the employer mandate, so far, has not been touched - it's still in place. So let's talk about both what the employer mandate means for you, and also how some of those changes might lead to some confusion for HR and business owners.
So first, what are your obligations?
Employer 1095-C Obligations
First, if you are an "Applicable Large Employer," meaning you have 50 or more full-time or full-time equivalent employees, you'll need to file 1095-Cs this year.
The 1095-C form provides details about the coverage offered, as well as which months employees were covered. This form is distributed to employees as well as filed with the IRS, whereas the 1094-C is filed only with the IRS.
1095-C Penalty Potential
What if I don't want to file? According to the IRS:
The penalty for failure to file an information return generally is $100 for each return for which such failure occurs. The total penalty imposed for all failures during a calendar year cannot exceed $1,500,000.
The fine for not complying with the employer mandate is even higher.
There are actually two kinds of penalties here - some call them the "sledgehammer penalty," which applies to employers who fail to offer any coverage. Then there's the "tack hammer penalty" applying to employers who offer a plan that doesn't meet ACA standards.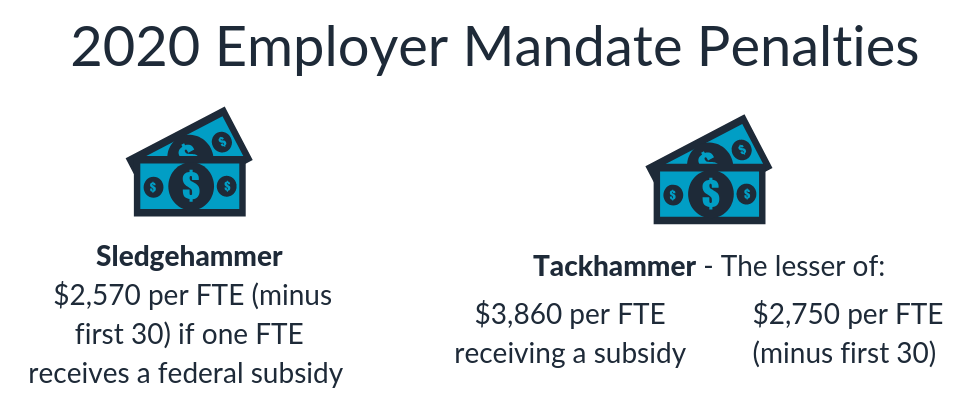 The sledgehammer penalty in 2020 is $2,570 per year for each full-time employee, excluding the first 30 employees, if one full-time employee receives a federal premium subsidy for marketplace coverage.
Next, if the cover doesn't provide 'minimum value' - which means it's at least 60% of total allowed costs expected to be incurred under the plan - or isn't considered 'affordable,' - which means it costs more than about 9% of the employees income - you have to pay a penalty. In 2020, you'll pay the lesser of $3,860 per full-time employee receiving a subsidy, or $2,750 per full-time employee, minus the first 30.
Confusing - right?
Employers definitely have found it confusing - the IRS started enforcing the mandate in 2016, and identified at that time nearly 50,000 employers at risk for compliance actions. More than $4.4 billion in penalties have been issued so far.
Now - what options do you have to file these 1095-Cs?
How to File 1095-C Forms
If you are filing more than 250 1095-Cs, you have to file electronically. If you have fewer than 250, you can file by paper - I've done it both ways, and even if you think it will be easier on paper, generally, electronic is an easier process.
So how do you file electronically, and what vendors are available to manage this process?
Option 1: Payroll companies.
Payroll companies are used to filing tax forms, so that's a benefit here. However, because 1095-Cs require benefits information, HR or the benefits broker becomes the involuntary middleman. This circumstance can create tension and slow down the process.
Option 2: Standalone vendors
Standalone vendors are vendors who exclusively provide 1095-C solutions. Because standalone vendor 1095-C solutions act independent of other systems, they must pull benefits information from different sources.
Depending on the system, the software may generate PDFs of the IRS forms, provide some reporting functionality, and e-file the documents as well as mail them to employees. These systems are often available through tax preparation providers.
When the 1095-C requirements were new – they became mandatory for the 2015 tax year – and employers were in a time crunch to become compliant, a standalone strategy may have made sense.
However, most groups have realized that manually pulling coverage data is a lot of work on an annual basis, especially if you have this information already compiled in a benefits administration platform.
A better option is to use a 1095-C solution that is tied to a benefits system, which already stores all the relevant information.
Option 3: Benefits administration
Benefits administration software providers are the most logical platforms to use when filing 1094-C/1095-C forms. These providers are an obvious choice because benefit administration software already hosts all information necessary to complete both 1094-Cs and 1095-Cs, and many also handle mailing and e-filings.
Ultimately, administrators will want to consider how much of their time is currently spent on the 1095-C process and whether that can be minimized by using a system that is connected to their benefits platform.
1095-C Individual Mandate
Whenever 1095-Cs come up, it's not uncommon for this topic to raise questions around individual health insurance penalties. The counterpart to the ACA's employer mandate is the individual mandate.
This part of the law required most consumers to carry qualified health coverage or pay a fine. The Trump administration has made some changes to the law that can cause confusion for employees and employers alike.
Technically, the individual mandate is still on the books - but as of last year, the federal individual mandate penalty now set at $0.
One mistake that might come up is thinking that because the individual mandate penalty is done away with and employees aren't penalized for lacking coverage, employers won't be penalized for failing to offer it. That is NOT the case - the employer mandate, and its penalties, are still very much in place.
Further, the $0 penalty is from a federal perspective. One update is that now some states are getting into the game. New Jersey for example has an individual penalty based on the average cost of a bronze plan in the state, and beginning this year, New Jersey requires employers to provide the state with the same 1095-C form they provide the IRS, using New Jersey's system for filing W-2 forms.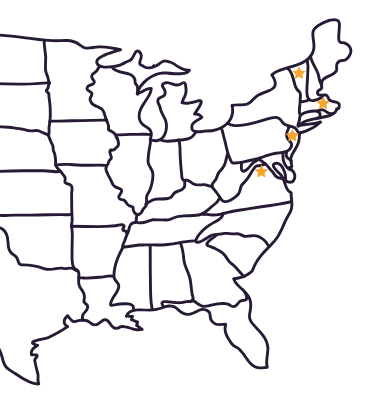 Other states with individual mandate penalties include Massachusetts, DC and Vermont. For this reason, it's important to stay on top of your state's specific health coverage laws and requirements.
Either way, most organizations likely have the opportunity to make this process less of a headache in 2020 and beyond. For our organization of 70 employees, the 1095-C process represents a commitment of about 45 minutes. If you're looking for more information on streamlining this process, check out the free "Intro to 1094/1095-C Course" on Bernie U, it covers everything from the basics, common misconceptions, how to prepare and file and more.
Stay up to date on the latest HR topics by subscribing to our HR Youtube series and podcast, HR Party of one below!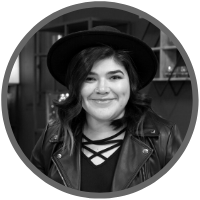 Written by
Ellen Rex
Ellen is an aPHR certified digital marketer on the BerniePortal team who writes about HR technology, resources, and new releases.