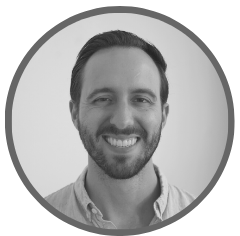 Written by
Drew Gieseke
Drew Gieseke is an aPHR®-certified marketing professional who writes about HR, compliance, and healthcare solutions.
Back to Blog
Everything Attendees Should Know About Weekdays with Bernie 2021
Posted on March 9, 2021 In
HR
3 min read time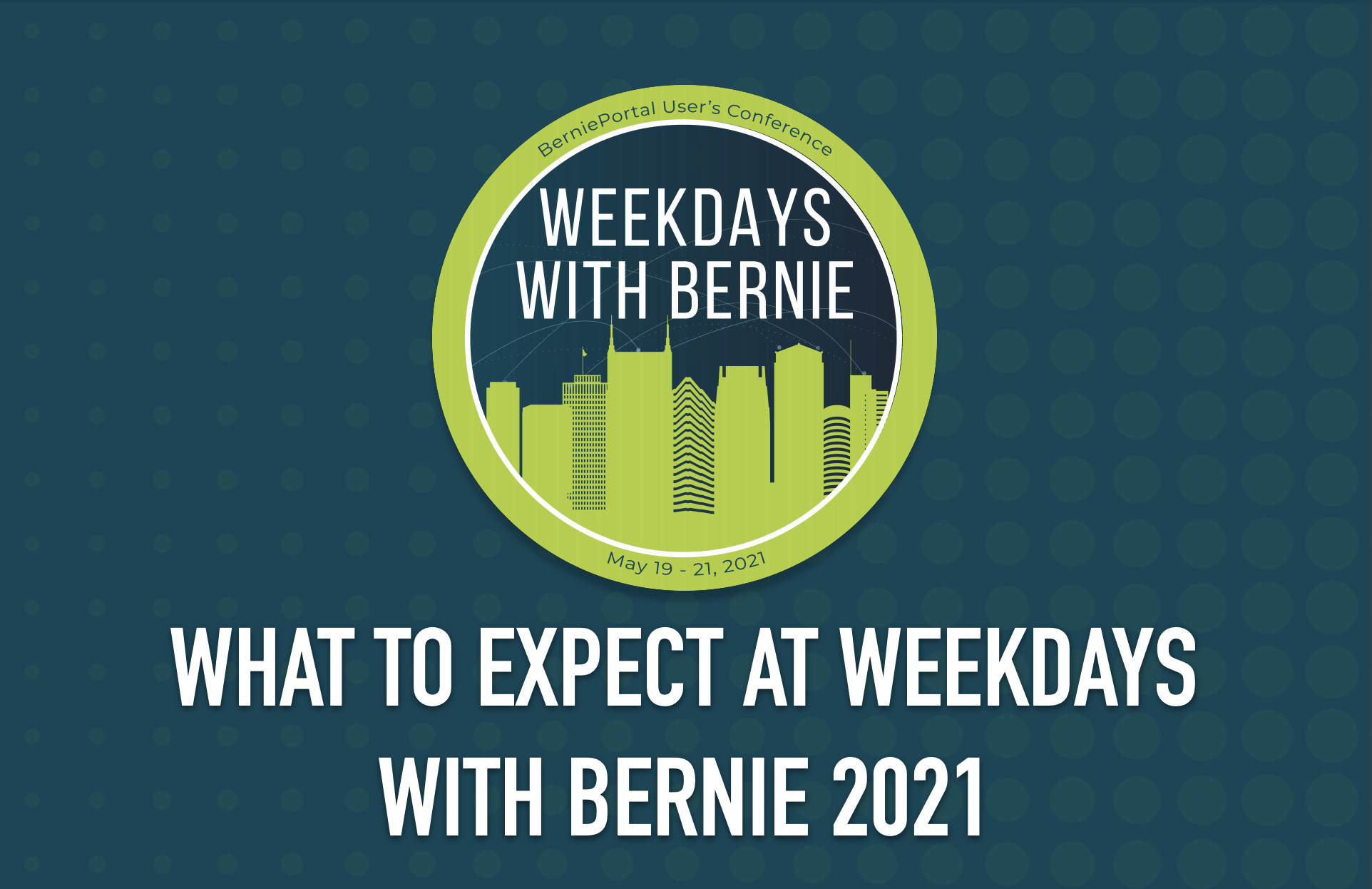 BerniePortal's 4th annual user's conference is rapidly approaching. From speakers and schedules to safety precautions and more, read on to learn everything you need to know about Weekdays with Bernie 2021.
What is Weekdays with Bernie?
Each year, HRIS platform and company BerniePortal convenes hundreds of HR industry leaders and innovative thinkers for best-in-class, in-person and virtual learning opportunities, networking, and strategic solution-oriented sessions—plus the chance to earn CE credits for attending.
In 2021, this formula remains more potent than ever. The event will feature a keynote from Kindra Hall—a professional storyteller and best-selling author of Stories That Stick—as well as a great lineup of other human resource and leadership experts.
From how employers can tell their own story and how HR can build a culture that matters to a session on returning to the office during the pandemic, attendees will leave the conference with new HR industry connections and strategies to elevate their role.
With this in mind, to accommodate as many people as possible during the tail-end of the pandemic, this year's Weekdays with Bernie will include both an in-person component and a virtual experience.
What's the Difference Between the In-Person and Virtual Experiences?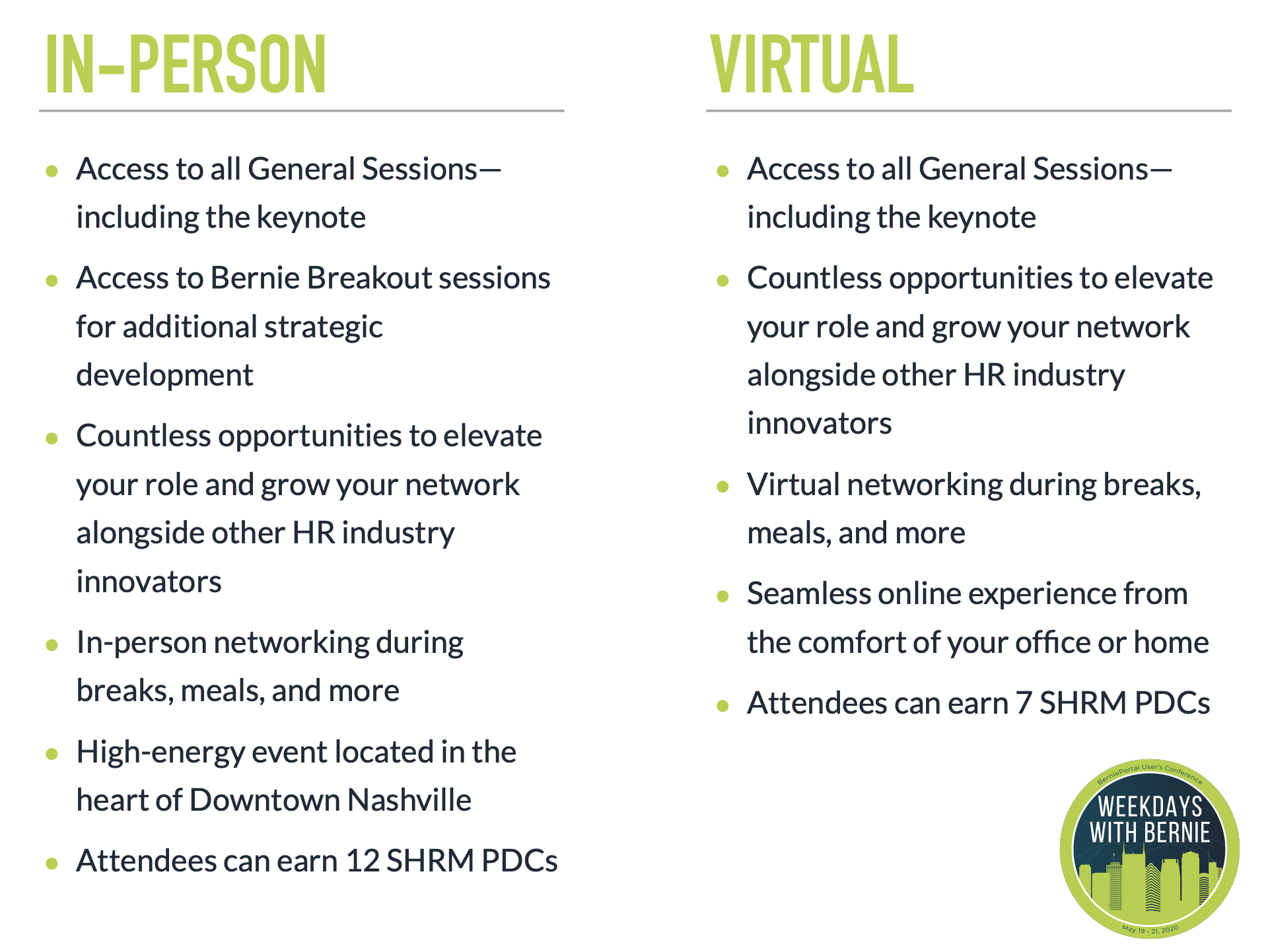 During the two-day in-person event, BerniePortal will welcome attendees to the Hilton Downtown Nashville hotel, where they'll hear from the keynote speaker, listen to several industry-focused general sessions, and participate in Bernie Breakouts, which are breakout sessions that are held simultaneously throughout the day.
Bernie Breakouts include three different tracks: one focused on brokers, a general track, and another designed for HR leaders. The in-person experience is perfect for attendees who can make the trip and feel safe doing so. By mid-May, many millions of Americans should be vaccinated against COVID-19 if they wish—and the event will still take all proper safety and public health precautions.
On the other hand, people who are unable to make the trip or prefer to stay home can attend the conference online. Aside from lower pricing, the virtual experience offers access to the keynote and general speaker sessions but not the Bernie Breakouts. Virtual attendees can also chat with sponsor representatives, catch up with BerniePortal team members, and plenty more.
Where to Learn More About Weekdays with Bernie 2021
HR professionals who are interested in learning more about Weekdays with Bernie 2021 can go to WeekdaysWithBernie.com to review the full slate of speakers and sessions, as well as read through the FAQs and check ticket pricing.
To register for the event, use this link.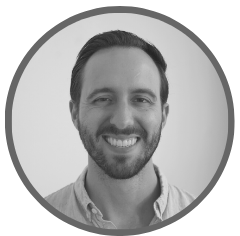 Written by
Drew Gieseke
Drew Gieseke is an aPHR®-certified marketing professional who writes about HR, compliance, and healthcare solutions.