Written by
Will Miranne
Will is an aPHR-certified writer on the marketing team at BerniePortal. He writes about healthcare, human resources, and benefits.
Back to Blog
3 Key Ways to Boost Gen Z Engagement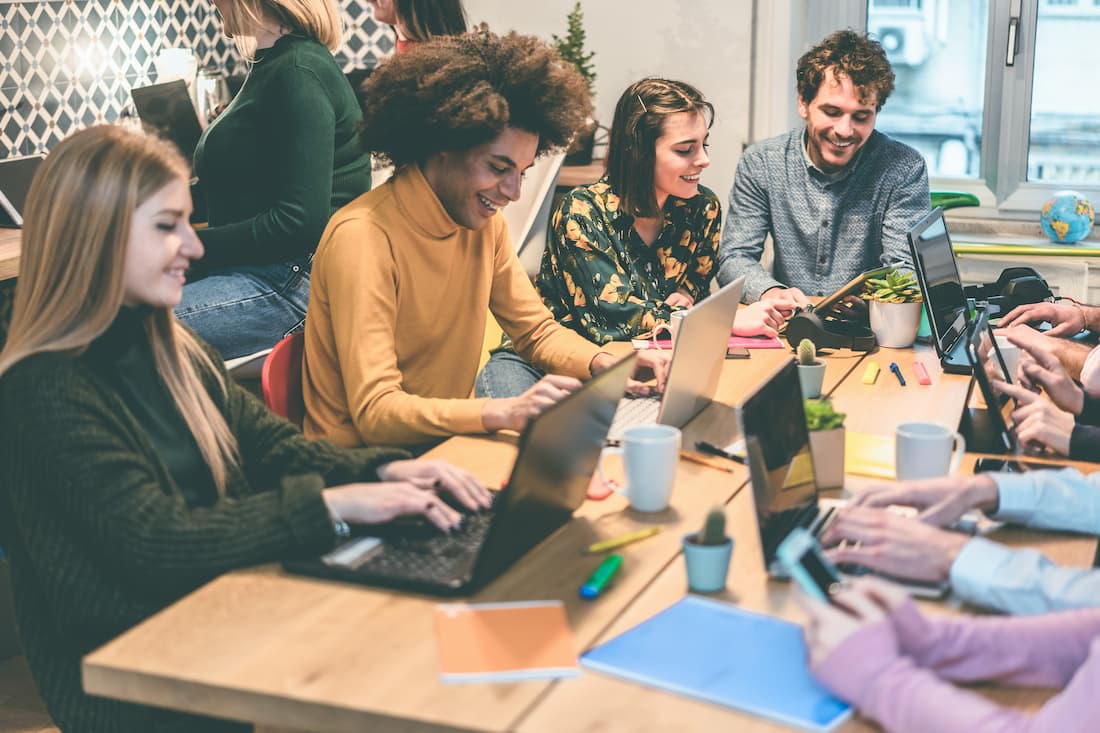 Generation Z (Gen Z) is the most recent generation to join the workforce. They are expected to make up roughly 30% of the workforce in two years, and that number will only continue to climb. With this growth and the rise in retiring baby boomers, the workforce is set up for a decade of consistent change.
Read on to learn about three key ways employers can connect with Gen Z and boost engagement.
1. Understand their Motivations
According to a Gallup poll, Generation Z feels more detached from their employers than other generations. Many of these employees feel very little connection to their workplace or coworkers.
The poll discovered that Gen Z felt less engaged overall than any other generation. They were more likely than other generations to be unengaged and less likely than all other generations to be actively unengaged. The interesting point here is that they seem to be entirely ambivalent about the workplace.
The survey also found that Gen Z was more likely to be stressed and burned out than any other generation. These numbers indicate a growing indifference toward the workplace. Employers must find ways to connect to the newest generation in their workforce.
In another article published by Forbes, Meghan M. Biro, Founder, and CEO of TalentCulture, discusses the impact of Gen Z's apparent dissatisfaction with workplace culture and the great resignation.
"When research emerged as we muscled through the pandemic that Gen Z employees were leading the Great Resignation, I wasn't surprised. 59% of Gen Z employees were resolutely dissatisfied with their job, and 35% were planning on jumping ship in the coming year. The trend hasn't abated."
Biro also discusses some of the driving motivations for Gen Z that companies don't seem to be getting right:
DEI Is Critical: Gen Z is interested in organizations with strong DEI policies. They are also the most diverse generation in history, with 48% of them identifying as races that are not white.

Improve and Update Your Technology: If Gen Z is proficient in technology. It is ingrained in their minds, and they expect immediate results. If sites are slow or out of date, it will frustrate them, and you will lose their attention.

Growth Matters: Gen Z is looking to progress in their careers. They want growth opportunities, and a large part stems from learning opportunities.
2. Invest in DEI
Employees must begin their Gen Z recruiting efforts now. If organizations choose not to take them seriously, they will lose out on a vast pool of talent that will only grow in the future. Within a decade, these employees will number nearly 51 million. If you don't devote time, effort, and focus toward adapting your strategies, you will see a consistently declining workforce.
Focus on building DEI strategies that will help attract and retain Gen Z employees. Asking the right questions is a great place to start. Here are some examples to consider:
What is your overall culture? Is it collaborative? Does it allow for inclusion?

What is the basis of employee satisfaction?

Do you have a mentorship program?

Are employees involved in group dynamics and cross-team collaboration?

What is the process of moving up the ladder?

What is the hiring process?
Once you have answered these questions, you must build upon that foundation. Here are some ways your organization can establish a long-term DEI plan:
Focus on the future. Rather than wait for an issue to arise, set up initiatives now with long-term goals.

Understand the impact DEI will have on your organization. All successful business strategies need to reflect positive financial outcomes for the business. Discern how DEI will affect the bottom line.

Set yourself up for success. Focus your efforts on boosting employee engagement. Make your office an environment that promotes employees' natural talents. Be frequent with feedback and ensure that employees feel seen and heard.

Establish a connection with your employees. Employees who claim to connect with their employers are seven times more likely to stay at that organization. Mentorship, group activities, and regular 1:1 meetings can foster positive connections.
3. Create Opportunities for Work-Life Balance
Gen Z is concerned with avoiding burnout and excess stress. This stems from a desire to focus heavily on their well-being. They are much less likely to sacrifice mental health for their careers. They want, above all else, growth and balance that promotes their health.
Coreyne Woodman-Holoubek, LinkedIn's top voice in company culture 2022, says:
"81% of Gen Z have left jobs for mental health reasons, according to Care for Business Future of Benefits report 2022."
Organizations can help Gen Z employees succeed by exposing them to new areas of the organization and connecting them with mentors, department leaders, and coworkers who can help coach and support them. It might take experiencing different areas of the organization to understand what success can look like for them. Keep in mind that because Gen Z is focused on balance and mental wellness, success may be more challenging to picture.
Open dialogue is a fantastic way for organizations to ensure they are connecting with their younger employees. Managers need to connect with their younger employees and understand their desires, what they want, and how they wish to be treated in the workplace.
Here are some questions you can ask to better connect with and understand Gen Z employees:
What does success look like to you?

How do you achieve mental wellness in the workplace?

What do you need to feel supported in your role?

What type of feedback is motivating to you?

What resources do you need to feel confident in your day-to-day?

Can you tell me about some of your interests outside of work?
These employees are also seeking growth in their careers. Employers must initiate opportunities for these employees to receive on-the-job training and development. Well-being is an essential byproduct of job growth. Many managers and employers may not fully understand this to the degree of younger employees and struggle to retain Gen Z employees. Find ways to promote positional growth to your employees with clearly defined paths for achieving it.
While taking vacation and time to yourself can be necessary for mental health, enjoying your job and seeing an increase in benefits and salary can also heavily contribute to mental wellness.
The most important thing to remember is that Gen Z are the leaders of tomorrow. If you want to achieve long-term and future success, then Gen Z will play a prominent role. Prepare for this by creating strategies for retention now. Not in 10 years, but right now. When you plan, you set yourself up for success today and tomorrow. If you choose to wait, you will already be behind the competition. Gen Z isn't waiting for organizations to offer them what they need. They will move quickly to the organizations that already have it figured out.
Additional Resources
You can also stay informed, educated, and up-to-date with employee engagement and other important topics by using BerniePortal's comprehensive resources:
Written by
Will Miranne
Will is an aPHR-certified writer on the marketing team at BerniePortal. He writes about healthcare, human resources, and benefits.