Written by
Will Miranne
Will is an aPHR-certified writer on the marketing team at BerniePortal. He writes about healthcare, human resources, and benefits.
Back to Blog
7 Ways to Foster an Effective L&D Strategy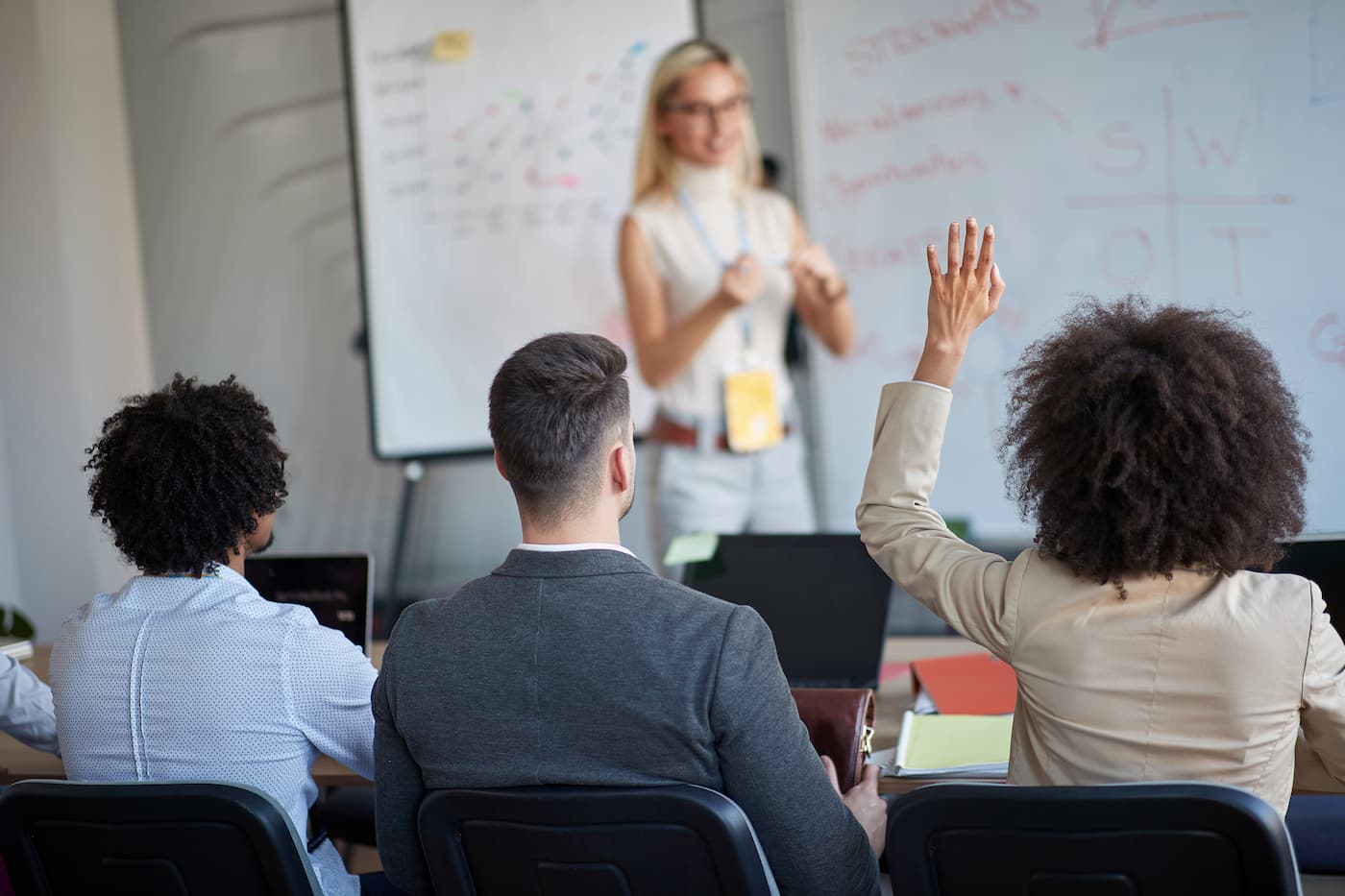 Well-configured learning and development (L&D) strategies are critical for small to medium-sized businesses (SMBs) who wish to stay ahead of the competition.
Read on to learn about seven necessary aspects of L&D and how employers can use them to foster a healthy program within their organization.
1. Set Clear Goals
Setting clear and achievable goals is essential for creating a successful L&D strategy. Employers must identify the skills and knowledge employees need to acquire to achieve business objectives. Organizations can help employees understand the importance of learning and development initiatives by setting goals and objectives and aligning them with the company's definitive goals.
When setting goals, be sure to make them SMART (Specific, Measurable, Achievable, Relevant, and Time-bound). For instance, if an organization wants to increase its customer satisfaction rate, it could set a goal to improve the communication skills of its customer-facing employees. The goal could be specific, such as "improve communication skills by conducting customer service training." It should be measurable, such as "improve customer satisfaction rate by 10% within six months." The goal should also be achievable, relevant, and time-sensitive.
2. Personalize Learning Plans
Organizations must recognize that each employee has unique learning needs and preferences. Offering a one-size-fits-all training program may not always be an effective solution. To overcome this, businesses should create personalized learning plans catering to employees' individual needs.
Personalized learning plans can be created through comprehensive employee assessments, which include identifying skill gaps and learning styles. Organizations can then use various tools like personality assessments, performance reviews, and 360-degree feedback to identify employees' strengths and weaknesses. Upon receiving the results, organizations should tailor learning plans to build specific skills and address individual knowledge gaps.
3. Leverage Technology
Technology plays a vital role in employee learning and development. With the help of technology, SMBs can offer employees a wide range of learning opportunities, including online courses, webinars, podcasts, and virtual training sessions. Remember that the digital age is one of rapid evolution, meaning that technology can quickly become outdated. Regularly update all software and technological processes to maintain the most effective strategies.
One of the most effective ways to leverage technology is by implementing a learning management system (LMS). An LMS is a software application that enables organizations to deliver, manage, and track their training programs. With an LMS, SMBs can provide employees with a centralized platform for accessing training materials, tracking their progress, and communicating with management and fellow employees.
4. Foster a Culture of Learning
Employers must create an environment that encourages employees to pursue learning opportunities continuously. This can be achieved by promoting a growth mindset and emphasizing the importance of learning and development in achieving personal and professional goals.
To foster a culture of learning, organizations can offer incentives such as promotions, bonuses, and career advancement opportunities to employees who demonstrate a commitment to learning. Additionally, employers can encourage employees to share their learning experiences with their peers and provide opportunities for cross-functional training and collaboration.
Melanie Naranjo, VP of People at Ethena, talks about how it is HRs responsibility to advise rather than enforce. It is essential to keep this thought in mind while crafting your strategy. Naranjo says:
"Staying in the advisor lane forces you to ask smart questions that root out underlying issues you might have otherwise overlooked.
Effective coaching empowers the other person to learn and grow, becoming more autonomous over time. This in turn allows you as an HRBP to spend more time chasing after big picture initiatives, and less time playing damage control.
When done right, effective coaching also builds trust and relationships, which means the next time a tricky situation comes up, your stakeholders will proactively seek you out rather than trying to downplay or hide something for fear of being pressured to do something they disagree with."
These are only a few of her mentioned points, but they should be a reminder to organizations as they look to foster a culture centered on learning. Coaching is an enormous part of the equation. Organizations should evaluate their management tools and practices to ensure that all training and development opportunities are founded on effective coaching and leadership strategies.
Gamification is another excellent tool that can be used to promote a culture devoted to continual education. Healthy competition can motivate employees to succeed and achieve greater goals.
5. Offer Numerous Training Opportunities
Organizations should provide employees with various training options to accommodate different learning styles and preferences. This can include on-the-job training, classroom training, e-learning, as well as coaching and mentorship programs.
Additionally, businesses can encourage employees to attend industry conferences, workshops, and seminars to learn about their field's latest trends and best practices. Weekdays With Bernie is a great example of a conference where HR professionals can learn alongside other industry professionals and even earn HRCI or SHRM credits.
Providing opportunities for employees to participate in training and development programs can improve their skills and knowledge, leading to better job performance and increased job satisfaction.
6. Measure Success
Employers must track and measure the effectiveness of their training and development programs to ensure they are achieving their intended outcomes. Measuring success can help organizations identify areas of improvement and make necessary adjustments to their L&D strategy.
There are various ways to measure the success of an L&D program, including employee feedback, performance metrics, and ROI. Employee feedback can provide valuable insights into the effectiveness of the training program and identify areas for improvement. Performance metrics such as productivity, job satisfaction, and employee retention can also help organizations assess the impact of their L&D initiatives.
7. Align L&D Programs with Business Objectives
For an L&D program to be truly effective, it should align with the business objectives of the organization. Employers should identify the skills and knowledge required to achieve their business goals and develop training programs that address those needs. This can include providing training on specific software or technologies, developing leadership and management skills, or improving customer service and communication skills.
By aligning L&D programs with business objectives, businesses can ensure that their training initiatives directly contribute to the organization's success. This can help increase employee engagement and motivation by providing a clear connection between their training and the business's overall goals. Additionally, it can help companies achieve a positive return on investment by focusing their L&D resources on areas that will significantly impact the business.
Additional Resources
You can also stay informed, educated, and up-to-date with all things HR by using BerniePortal's comprehensive resources:
Written by
Will Miranne
Will is an aPHR-certified writer on the marketing team at BerniePortal. He writes about healthcare, human resources, and benefits.