Written by
Will Miranne
Will is an aPHR-certified writer on the marketing team at BerniePortal. He writes about healthcare, human resources, and benefits.
Back to Blog
The Top HR Conferences to Look Forward to in 2022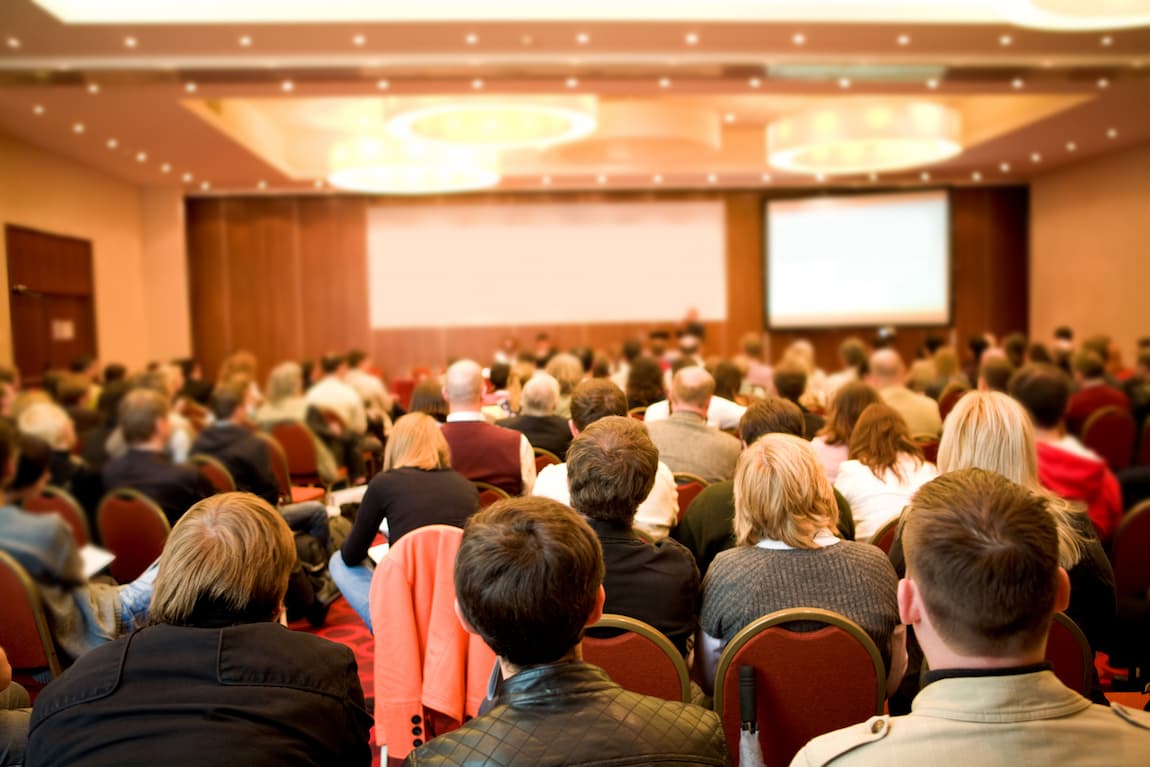 As HR professionals reflect on this past year and all that it has brought, what they learned and how they grew will likely sit at the forefront of their minds. As we inch closer to the new year, the time to set new goals approaches. For those HR experts looking to progress even further within the HR field, look no further, as we have compiled a list of HR conferences coming in 2022 that you simply won't want to miss.
HR Executive Technology Virtual Conference & Exposition
The HR Executive virtual technology conference will be taking place virtually on March 1-4, 2022. It is hosted by HR Executive and will be comprised of over 55 hours of sessions where you can discover the latest HR trends, best practices, and gain actionable applications on the state of HR technology. You will also learn how to apply this technology to best support your team in the modern workplace.
For those professionals seeking knowledge on the newest technology in the industry, buckle up. By attending this conference, you are going to gain access to over 100 different vendors where you can watch demos and take a look at some of the most impactful technology being used today. You can speak with product experts, and learn about which solutions may best suit you and your team.
You will also maintain access to all sessions for a total of 30 days following the event. The registration is entirely free, though you will be required to register ahead of time.
SHRM Talent Conference and Exposition
The SHRM Talent Conference is set for April 10-13, 2022 at Gaylord Rockies Convention Center, in Denver, CO. This conference is specifically designed for those seeking to learn more about developing, maintaining, and attracting top talent. This conference is suited for those who wish to shape the future of their organization by motivating their team each action you take as a leader has an effect on your employees. This conference will show you how to drive productivity by effectively managing your team.
The conference will cover 7 major topics with over 50 different sessions to attend. These include:
Engagement & Retention

Sourcing and Recruiting

HR & Talent Acquisition Strategic Planning

Talent Selection Process

Technology & Data Analytics

Diversity, Equity & Inclusion

Leadership and Development
Indeed Interactive 2022
Indeed interactive will take place at the Austin Convention Center in Austin, TX, on May 10-17, 2022. The conference will involve the latest technologies and trends, building more empathetic work environments, as well as workforce expectations amidst the post-pandemic world. You will also gain access to all of the innovative products and solutions that Indeed has to offer.
If you are looking to take advantage of Indeeds products and solutions as well as learn about the latest in technology for your team, then this conference is perfect for you. If you would like to learn more about costs or how and when to register, please visit the Indeed interactive page online and submit a request.
HR.com The State of Employee Well-Being
This conference is a virtual event taking place June 1-2, 2022. The topics at hand include employee safety, employee health, and well-being in the modern workplace. The event hopes to discuss in further detail, the 5 major ways in which well-being affects employees.
Mental and emotional

Physical

Social

Financial

Environmental
If you are looking to motivate your team and provide groundbreaking opportunities to increase productivity, then this conference may be just what you need. Take advantage of this opportunity to learn everything you can about understanding your employees on a human level and how you can use this to boost team morale and productivity.
SHRM Annual Expo
The 2022 annual SHRM Conference & Expo is scheduled for June 12 - June 15 at the New Orleans Ernest N. Morial Convention Center. The conference is set to be the largest gathering of HR professionals in the world and a can't miss event.
This is SHRMs annual conference covering HR as a whole. It offers 11 different tracks to choose from so that you can select the sessions that will prove the most meaningful to you and your work. There are over 200 sessions, so deciding on a track can be very helpful in discerning which sessions to attend. The following tracks are available to choose from:
Comp, Benefits & Well-Being

Diversity, Equity & Inclusion

Employment Law & Regulations

Global HR

HR Department of One

HR Technology & Data Analytics

Leadership & Personal Growth

People & Talent Management

Recruitment & Talent Acquisition

Strategic HR

Workplace Culture, Empathy & Work-Life Integration
Weekdays with Bernie
Weekdays with Bernie is our annual BerniePortal user conference. This year it will take place June 22-24, 2022 at the Hilton in downtown Nashville.
The conference will host hundreds of industry leaders and innovative thinkers for in-person and virtual learning and networking opportunities. This year will be a hybrid schedule to mimic our conference last year. Attendees will have the option to tune in online or arrive in person to experience this can't miss event. This means:
The largest networking opportunity to date

Best-in-class learning opportunities

Strategies to grow your business and company

You can join us virtually or in Music City!
Several of our keynote speakers include
Heather Younger, best-selling author of The Intuitive Laws for Employee Loyalty and CEO and founder of Customer Fanatix—a consulting firm with the aim to transform leadership and engage and motivate employees.

Karin Hurt, Co-founder of Let's Grow Leaders, a training firm focused on human-centered leadership development programs. She is an award-winning author of 4 books and is the host of the popular LinkedIn show, Asking for a Friend.

Andrew Mellen, WSJ best-selling author of Unstuff Your Life! and The Most Organized Man in America's Guide to Moving. He has written about simplifying your life, everywhere from Real Simple, to O, The Oprah Magazine.

Larry Van Horn,

leading expert and researcher on health care management and economics. His research has appeared in leading journals including Health Economics, New England Journal of Medicine, and the Harvard Business Review. He is also responsible for the graduate health care programs at Owen Graduate School of Management at Vanderbilt University.

Alex Tolbert is the founder and CEO of BerniePortal. He began as a broker for BerniePortal's sister company Bernard Health, where he was able to see first-hand the challenges small and mid-sized organizations face when it comes to benefits and HR. During his presentation, expect to hear about the latest and greatest updates for the BerniePortal platform.
The State of Human Experience in the Workplace 2022
This is a virtual conference taking place on August 17, 2022. It will focus on the human experience. This is something that typically goes beyond customer and employee experience. It will include sessions about human interactions and the experiences of employees and other stakeholders in the modern workplace.
If you are seeking new opportunities to improve retention, engagement, or employee performance, this conference is exactly what you are looking for.
During this conference, you will learn how to see your workers more fully as human beings beyond the perspective of an employee. This conference will engage in several important topics specifically:
HR functions and their roles in shaping the human experience

Performance management

Benefits programs

Corporate culture
These are only a few of the important topics you won't want to miss.
SHRM HR Indiana Conference
HR Indiana is set for August 29-31, 2022. This is one of the largest regional HR conferences in the country and is set to be entirely in-person. It will take place at the JW Marriott in downtown Indianapolis.
The conference will boast 3 days of educational sessions and networking opportunities. You will also gain exposure to some of the latest HR solutions and technology. This conference is for all HR professionals, whether generalized or even senior level. Registration is now open for 2022.
HR Executive Annual HR Conference & Expo *(Featuring Women in Technology)
The HR Executive technology conference takes place September 13-16, 2022 at Mandalay Bay in Las Vegas, NV. This event is set to deliver cutting-edge technology solutions that will benefit all HR and IT professionals. The primary focus is on driving HR success through technology. If you are looking to continuously optimize your HR systems then this conference may be what you are looking for.
You will also be able to explore thousands of vendors and one of the largest HR tech marketplaces in the world.
HCI Creating a Culture of Diversity, Equity, & Inclusion Conference
This virtual conference will be taking place on September 21, 2022. During this conference, attendees can expect to learn how to build both common language and understanding around diversity, equity, and inclusion, or DEI. The focus will be on empowering your employees and workforce to work together for the greater goal, as well as setting and maintaining clear communication around your vision and goals.
Attendees can purchase one of three packages. A 3 session package, which costs $495, a 12 session package, which costs $1,895, or a one-day virtual package, which costs $195.
HCI Supporting Workplace Wellness & Wellbeing Conference
This virtual conference will take place on October 19, 2022. It will focus on building a culture in your workplace where employees are supported during personal challenges, providing the necessary resources to help employees address their mental and physical health concerns, and getting out in front of modern workplace challenges that can stunt and impact your business.
Attendees can choose between a 3 session package, which costs $495, a 12 session package, which will run you $1,895, as well as a 1-day virtual pass, which will cost $195.
Additional Resources
You can stay informed, educated, and up-to-date with important HR topics using BerniePortal's comprehensive resources:
Written by
Will Miranne
Will is an aPHR-certified writer on the marketing team at BerniePortal. He writes about healthcare, human resources, and benefits.