Written by
Will Miranne
Will is a writer on the marketing team at BerniePortal. He writes about healthcare, human resources, and benefits.
The ADA's Impact on Returning to the Office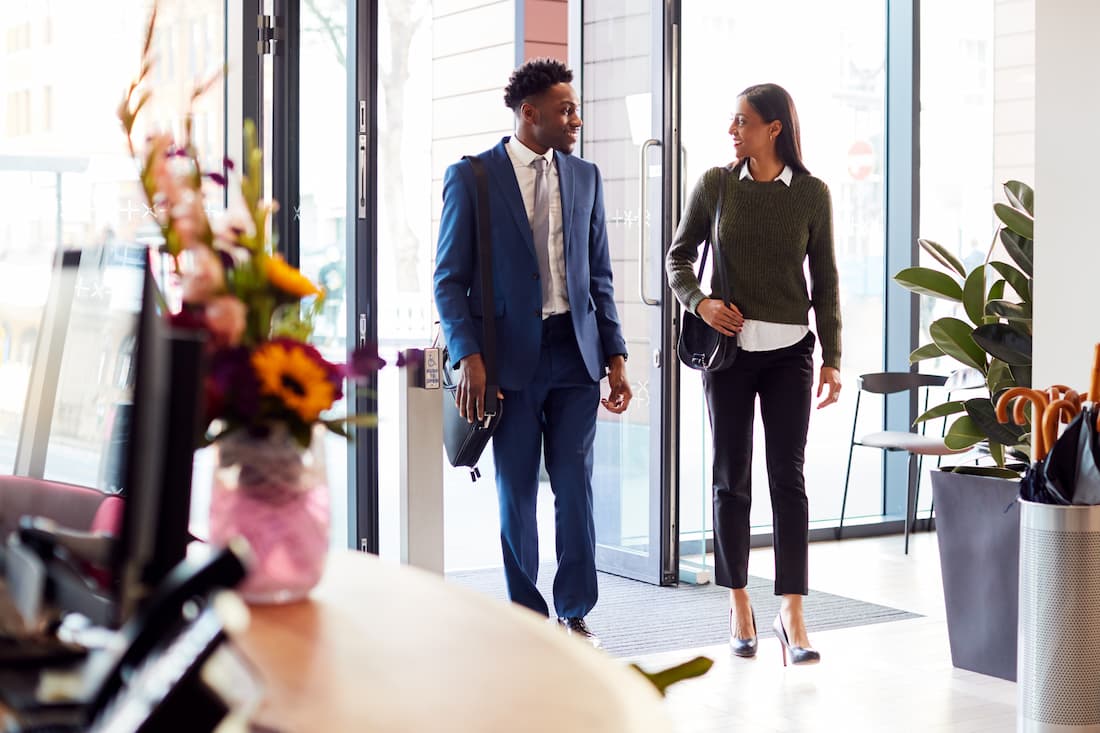 With companies becoming more vaccinated, workplaces look to be gearing up to return to the office soon. With this in mind, employers need to make sure their employees are prepared to return. Many employees may be in need of assistance or accommodations as they make the transition back into an office. Companies will need to begin familiarizing themselves with the ADA's accommodation regulations in order to ensure compliance. What is the ADA? And what do employers need to know about ADA guidelines as they prepare to return to the office? Read on for how you can stay best prepared.
What Is The ADA?
The Americans with Disabilities Act (ADA) is a law that protects individuals with disabilities from discrimination in public places, transportation, jobs, schools, and businesses open to the public. The legislation became law in 1990 and is organized into five sections, called titles, as it relates to employment, state and local government, public accommodations, telecommunications, and miscellaneous.
The ADA defines a disability as "a physical or mental impairment that substantially limits one or more major life activities, a record of such an impairment, or being regarded as having such an impairment.
What Is a Reasonable Accommodation?
The ADA requires employers to provide reasonable accommodation to a qualified person with a disability, unless it will cause an "undue hardship." The employment provisions of the ADA apply to organizations that have 15 or more employees on payroll, which includes full time and part time employees. If an organization has several sites that are all owned, operated, and managed by that organization, then it must count all employees at these sites.
Undue Hardship is described by the Equal Employment Opportunity Commission or EEOC as an action that would require excessive difficulty as it would relate to individual business. As stated by the EEOC, It is therefore a fundamental statutory requirement to provide reasonable accommodations to individuals with disabilities, due to the unfortunate nature of discrimination.
What to Know about The ADA as Workers Return to The Office
According to the EEOC employers may request specific information regarding accommodations in relation to COVID-19. Employees may be asked to answer a series of questions regarding their disability in relation to COVID-19, such as:
What limitations has the disability placed on the employee?

How would the proposed accommodation lessen the strains of the disability?

Can a different form of accommodation fully address the issue?

How will this accommodation impact the employees ability to perform their essential job functions?
It may behoove the employers to consider leniency in this process as more employees begin to return to the office. It may also be of benefit to request authorization from the employee to speak with their medical or health care provider on the matter. Employees may also offer a doctor's note or letter from a recent doctor's visit. Employers should maintain a rational procedure that is practical in terms of the situation. Employees will have different needs and it is up to the employer to offer support in a way that is both helpful and pragmatic.
If the accommodation is needed right away or is perhaps lacking formal documentation, it may be helpful to offer a limited accommodation. This can be in the form of a specified period of time, or trial period intended to be a check in.
There are many important points to consider as you invite employees back into the workplace. A few important points to consider as outlined by the EEOC:
Employers may require employees have their temperatures checked at the door, and refused entry should they refuse.

Employers may NOT inquire about family members who may have been diagnosed with or showcase signs of COVID-19. This is outlined in The Genetic Information Nondiscrimination ACT (GINA).

Employers may ask whether the employee or persons entering the workplace if they have been or are diagnosed with COVID-19.

Employers may require a COVID-19 test under the pretense that it is "job related, and consistent with business necessity."
If and when employers opt to bring work back to the office, then they will be under no obligation to elongate remote work policies for those considered disabled. Employees may be required by said employer to formally request telework continuation. It is up to the employer to decide how they wish to approach the return to work requirements. Employers may wish to have all employers return to the office and submit formal requests should they feel the need to continue working remotely.
What Can Your Organization Do to Best Navigate This ADA Process?
As explained by the National Law Review, It is crucial that you continue to communicate effectively with all employees. The nature of returning to work after a pandemic is relatively uncharted territory for many businesses. Beyond this, the CDC is constantly updating recommendations, which play a role in the decisions businesses will make regarding telework policies. Be sure that beyond all of the noise, employees fully understand your policies as well as the expectations for remote work requests and other procedures relating to the ADA regulations.
If your organization is looking to hire once more as you return to the office, be sure to be descriptive with what is expected on a daily basis. This can ensure a smooth conversation or onboarding process, as the employee is fully aware of what is expected of them. This can also provide an immediate venture into whether the potential employee will need accommodations, and whether that can be successfully provided. It is always better to know as soon as possible so as to have more time to establish proper accommodations when necessary.
When dealing with any accommodations, don't forget to clearly document all information thoroughly. Creating consistency around the process will maintain a clean and easy means of documenting needed accommodations.
This process is delicate and ever changing. Employers must maintain awareness of the requirements and changes taking place as the workplace trends continue to evolve and adapt. Remain informed, and always evaluate your current strategies and procedures. As you monitor ADA requirements, keep in mind that while it is crucial to observe the given regulations, employee satisfaction is the goal. If an employee is in need of accommodations, the priority is coming to an agreement on what will work best for the employee and your organization.
Written by
Will Miranne
Will is a writer on the marketing team at BerniePortal. He writes about healthcare, human resources, and benefits.