Written by
Will Miranne
Will is an aPHR-certified writer on the marketing team at BerniePortal. He writes about healthcare, human resources, and benefits.
Back to Blog
Survey: A Look At the State of HR in 2023
Posted on January 10, 2023 In
HR
6 min read time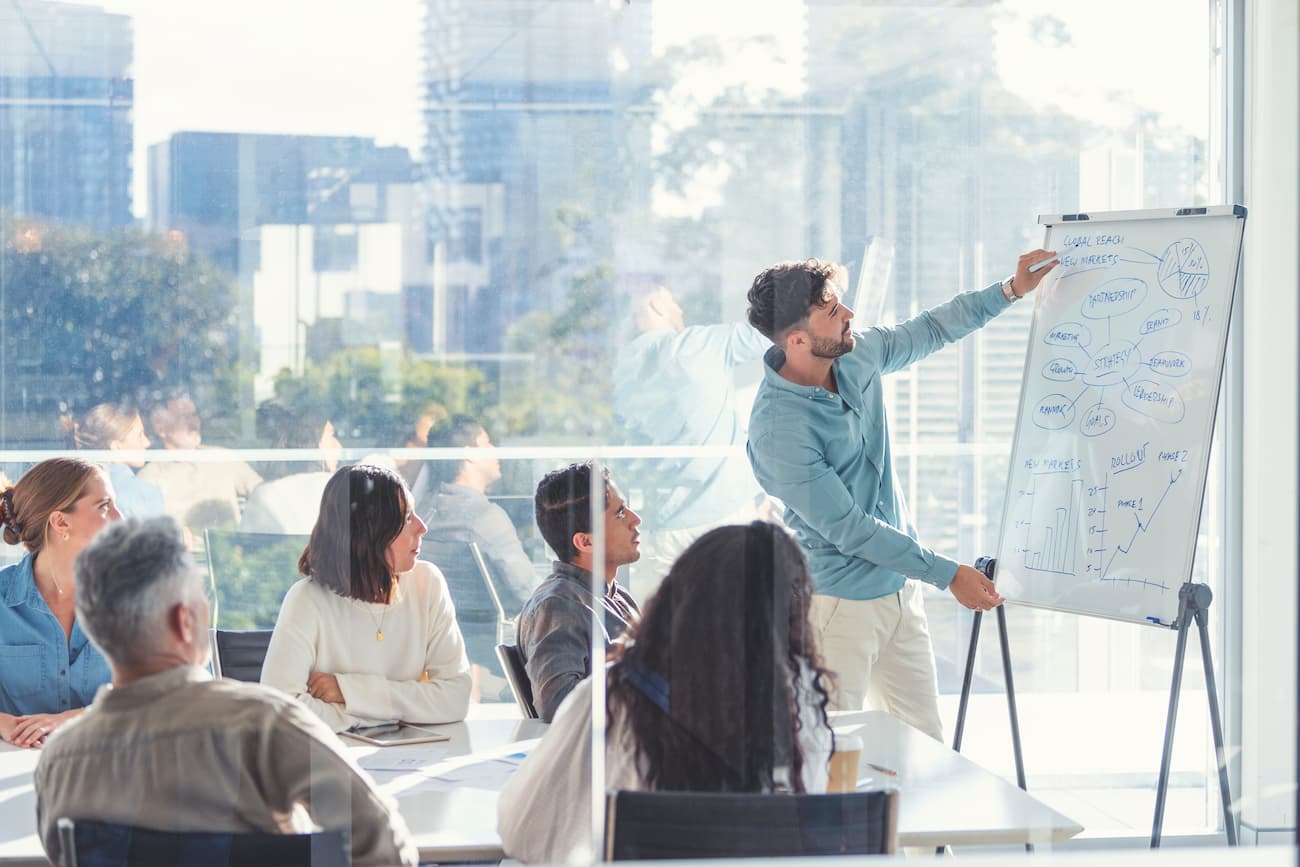 Considering the record-breaking inflation, increasingly mobile workforces, and ongoing fears of a coming recession, 2022 changed much about how we work. But what does 2023 hold for HR pros? BerniePortal recently asked a group of HR professionals in small to mid-size businesses about their experiences this past year and their expectations for the coming year.
Read on to discover essential details regarding the current state of HR and what you need to know in 2023.
Is HR Software a Necessity?
It is not surprising that software solutions play an integral role in most large companies. But can these solutions apply to small and mid-sized businesses as well?
HR software is essential, no matter the size of your organization.
90% of our surveyed respondents reported that their organization uses HR software. That's an increase from 83% last year and 66% the year before, which suggests that changes in the world of work since the COVID-19 pandemic have broadened the scope of HR's role to businesses of all sizes.
Technology now does many tasks that once filled HR's workdays, providing new bandwidth for more strategic roles. With intuitive tech, HR pros can spend less time on administrative tasks and more time adding value to their organizations.
This is hugely helpful for organizations that only employ a single HR professional. In fact, out of our survey, 50% of respondents were the only HR professional in their organization. Another 39% had less than five, while the remaining 11% had five or more.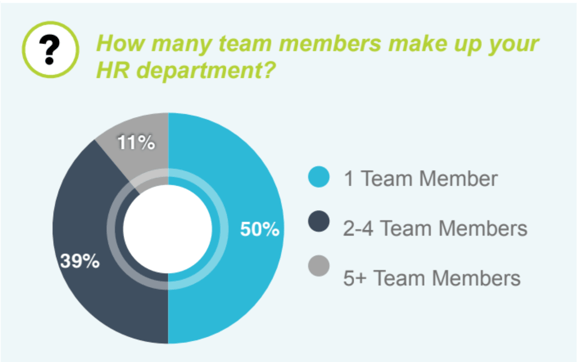 When HR departments are limited in scope, the amount of work can be daunting. HR software solutions, such as HRIS systems, can make their role much more effective. This means smaller organizations can now focus on areas they may have needed more capacity for previously.
Which HR Features Are Most Popular?
Our survey shows that Payroll has become the most popular function within HR software. Of those who use HR software, over 80% (73% of total respondents) use it for running payroll. Automating payroll with software—especially if it's part of a truly all-in-one HRIS—saves HR departments valuable hours every pay period.
Ideally, an organization's HRIS makes running payroll easier. But it may be time to consider changing payroll providers if the software is confusing, is hard to use, or requires you to import data from other systems manually.
BerniePortal's Payroll works harmoniously with its sister features, automatically populating data from benefits, time & attendance, and PTO. If you're interested in more accurate, efficient, and compliant paydays, schedule a demo of BerniePortal today.
68% of respondents use benefits administration marking it as the second most popular software solutions feature. More than half of those who completed the survey also used three other elements—onboarding, time and attendance, and PTO.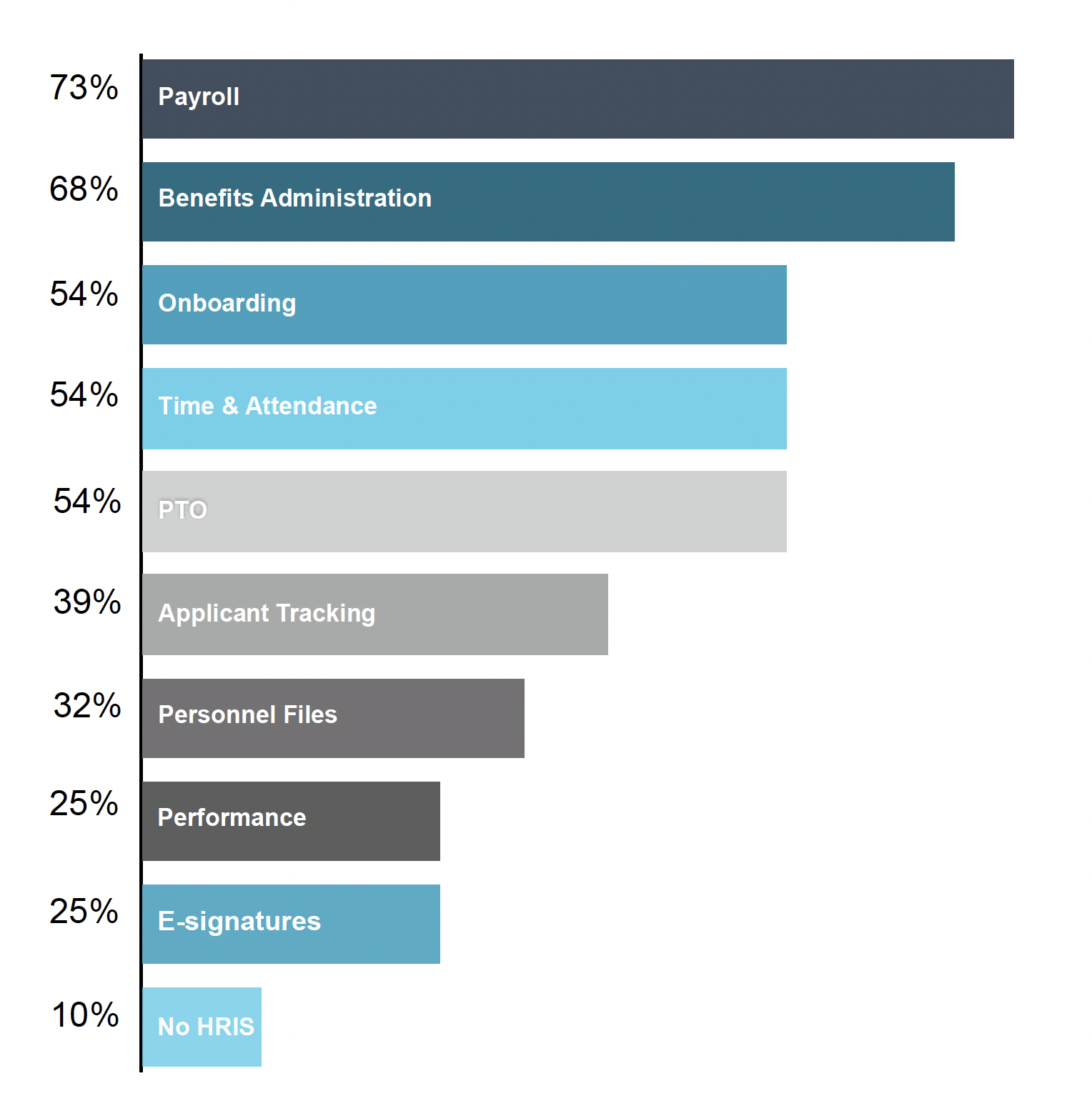 For more information, check out our Guide to HR Software for Small Businesses and our other Resources.
How Could the Economy Impact HR in 2023?
Economic struggles certainly impact HR in more ways than one. And as COVID-19 fears begin to wane, most HR pros turn their attention in that direction. As most professionals would agree, the economy appears tumultuous for 2023.
Record inflation seems to have peaked in June 2022 at 9.1%, but current rates are still at their highest point since the 1980s—drastically different from just a few years ago. High inflation means higher organizational costs, including rent, supplies, transportation, and technology.
Almost half (44%) of survey respondents reported their organizations are reevaluating compensation practices in response to inflation, while a quarter is already raising prices. The possibility of a recession compounds this dilemma, as most organizations seek ways to trim budgets in preparation.
At the same time, the labor market remains tipped in favor of job-seekers, and many HR pros are grappling with retention. But only 16% said they were offering more significant or frequent pay increases to encourage team members to stay—a data point suggesting belt-tightening is already in place at many organizations.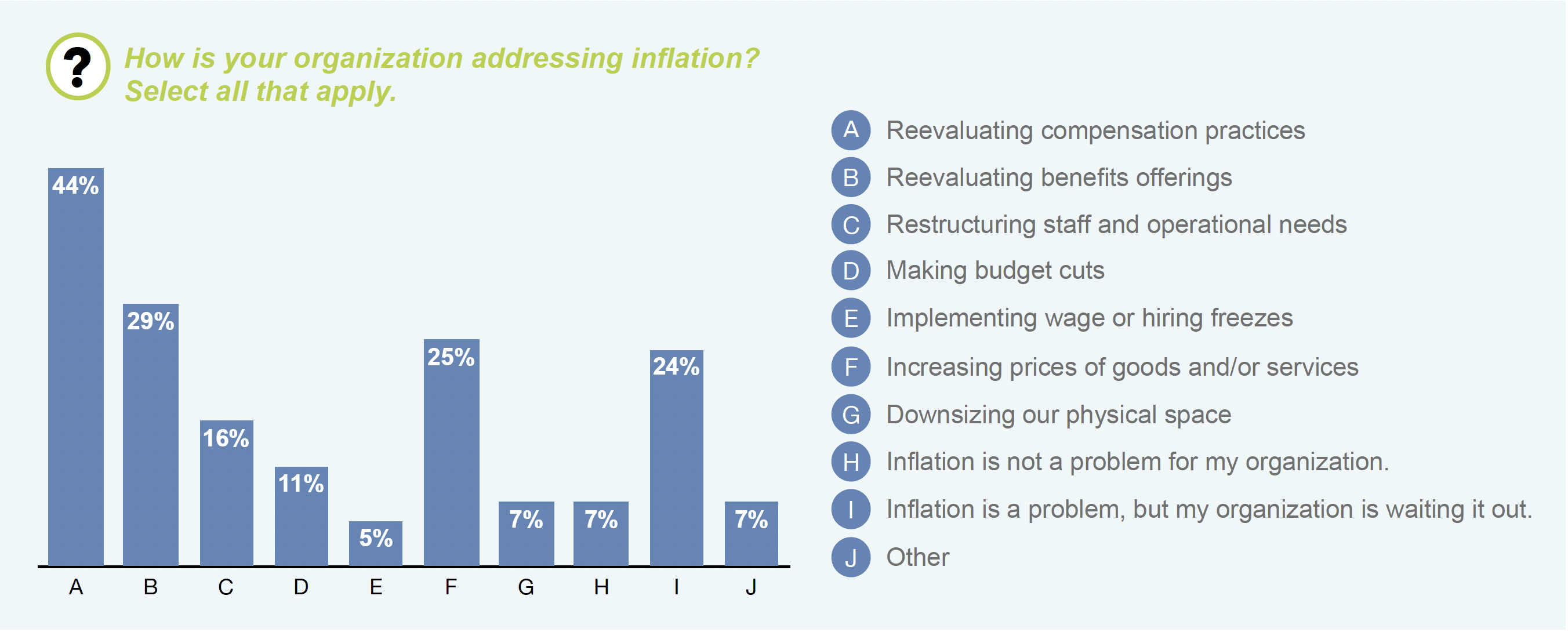 What Staffing Strategies are Best?
As the red-hot labor market cools (slightly), attention is shifting from recruitment to retention. 70% of respondents said their organization was improving retention by cultivating company culture (49%) and bolstering training and development (33%).
More than half of all respondents (58%) indicated that one of their primary goals heading into the new year was building company culture. Additionally, another 56% said that training and development were top priorities in the new year. Other primary objectives included filling open positions (45%), improving turnover (39%), and automating traditional HR processes (34%). Upskilling programs, improved benefits, and flexible work arrangements are all examples of strategies some organizations employ to maintain strong retention rates and avoid costly turnover amid such economic uncertainty.
Regardless of the size of your organization, you must take time to analyze your current HR strategies and practices to determine if changes are needed in 2023. Find a solution that will help you minimize administrative efforts and allow your team to focus on more nuanced matters.
Additional Resources
You can also stay informed, educated, and up-to-date with the state of HR and other important topics by using BerniePortal's comprehensive resources:
Written by
Will Miranne
Will is an aPHR-certified writer on the marketing team at BerniePortal. He writes about healthcare, human resources, and benefits.