Written by
Bretton Chatham
Bretton is an aPHR-certified member of the Marketing Team at Bernard Health. He writes about HR, compliance, and benefits solutions.
Back to Blog
OSHA Updates COVID Workplace Guidance in Response to Delta Spread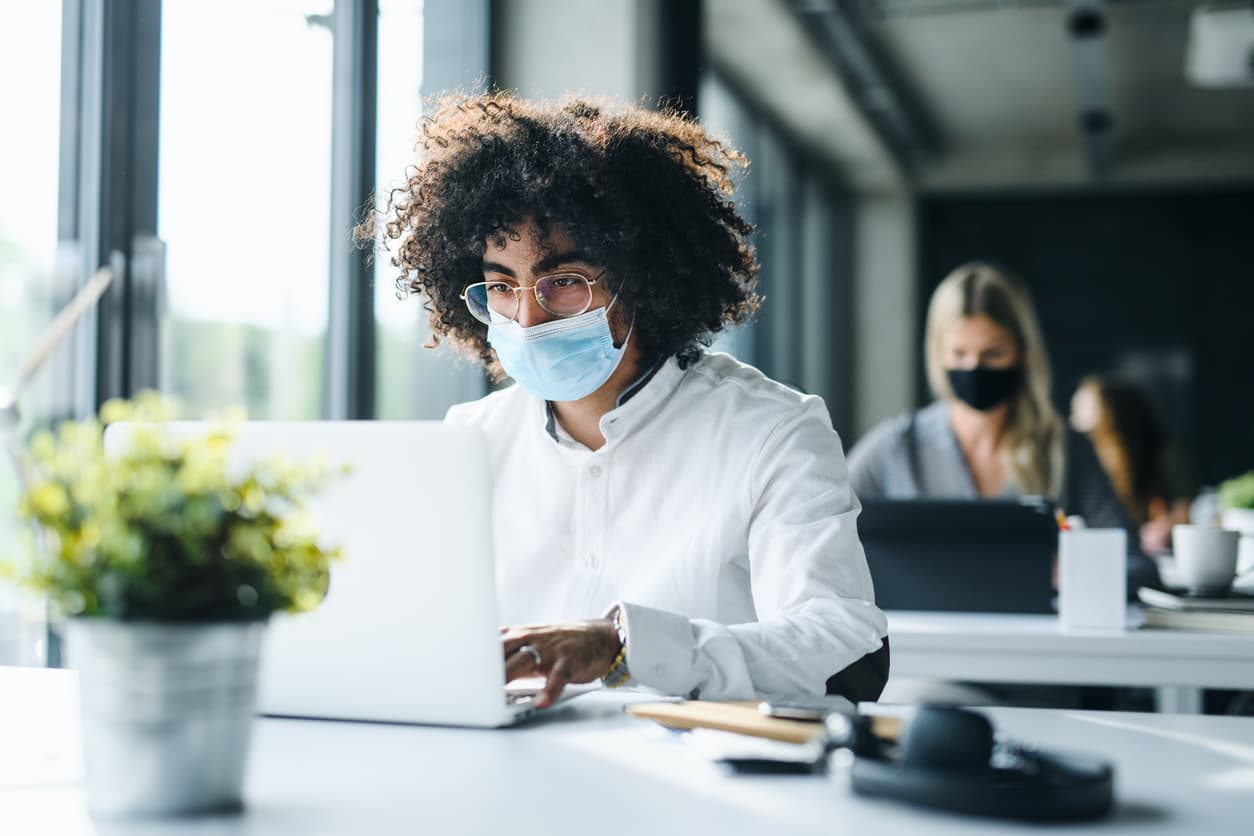 The highly contagious Delta variant has disrupted the plans of many employers. In response to this evolving COVID threat, the Occupational Safety and Health Administration (OSHA) recently updated its guidance for non-healthcare employers on August 13, reflecting the most recent recommendations from the Centers for Disease Control and Prevention (CDC).
Find out more about the new OSHA recommendations and how they affect employers and HR during this uncertain time.
What is OSHA's Role in Protecting Workers? and Why This New Update?
OSHA is a federal regulatory agency within the US Department of Labor, created in 1970 to ensure healthy and safe working conditions. The agency sets and enforces safety standards while also providing training, outreach, education, and assistance.
Employers are required to comply with certain OSHA regulations, including record-keeping for on-the-job injuries and illnesses and providing a hazard-free workplace. Naturally, the COVID pandemic has tested OSHA's objectives and employers' compliance in ways neither could have adequately anticipated.
In January, OSHA provided COVID-specific workplace guidelines at President Biden's direction. Over the following months, however, an initial decline in cases due to vaccination gave way to a rise in cases among the unvaccinated and vaccinated alike due to the Delta variant.
OSHA's Updated Guidance
On August 13, OSHA released its updated guidance, explaining its purpose is:
to help employers protect workers who are unvaccinated (including people who are not fully vaccinated) or otherwise at-risk (as defined in the text box below), including if they are immunocompromised, and also implement new guidance involving workers who are fully vaccinated but located in areas of substantial or high community transmission.
The CDC defines "substantial or high transmission" as 50 or more new cases per 100,000 OR 8% or greater positivity rate, per week per county. As of August 20, 94.72% of US counties fall under that definition.
Notably, OSHA clarifies, "This guidance is not a standard or regulation, and it creates no new legal obligations." This distinguishes the August guidance from the enforceable requirements in OSHA's COVID-19 Healthcare Emergency Temporary Standard, released in June.
In light of its goals and Delta's spread, OSHA now recommends employers and HR encourage or require the following:
Public Indoor Masking for All:
In areas of substantial or high transmission, employers should encourage or require all employees—including the fully vaccinated—to wear face coverings. Public-facing organizations should also consider requiring masks for customers. Accommodations can be made for reasons of disability or religion. Employers are encouraged to provide masks.
Vaccination:
Employers should encourage employees to get vaccinated by granting paid time off for vaccination and recovery from potential side effects; organizations with fewer than 500 employees are eligible for a paid leave tax credit under the American Rescue Plan Act. Additionally, OSHA recommends employers consider adopting a vaccine mandate with provisional requirements for workers who remain unvaccinated.
Testing for Unvaccinated and Known Exposures:
For employees who remain unvaccinated—under a mandatory vaccine policy—employers should consider requiring regular COVID testing. For vaccinated employees, employers should still encourage or require testing 3-5 days after a known exposure.
Detailed Policies for "Higher-Risk Workplaces":
In an appendix to the general guidance, OSHA recommends more detailed social-distancing policies for "higher-risk workplaces," designated as such by the proximity, duration, and type of contact between workers. These include manufacturing and meat processing plants as well as high-volume retail and grocery stores.
What More Do Employers and HR Need to Know?
Some employers are considering vaccine incentives—such as gift cards or insurance surcharges—rather than mandates while others are still choosing to keep the office remote.
Organizations may not be required by law to implement OSHA's latest recommendations, but it is still in the mutual interest of employers and employees to provide and maintain the safest working conditions possible.
Written by
Bretton Chatham
Bretton is an aPHR-certified member of the Marketing Team at Bernard Health. He writes about HR, compliance, and benefits solutions.