Written by
Will Miranne
Will is an aPHR-certified writer on the marketing team at BerniePortal. He writes about healthcare, human resources, and benefits.
Back to Blog
How Can HR Express Value to the C-Suite?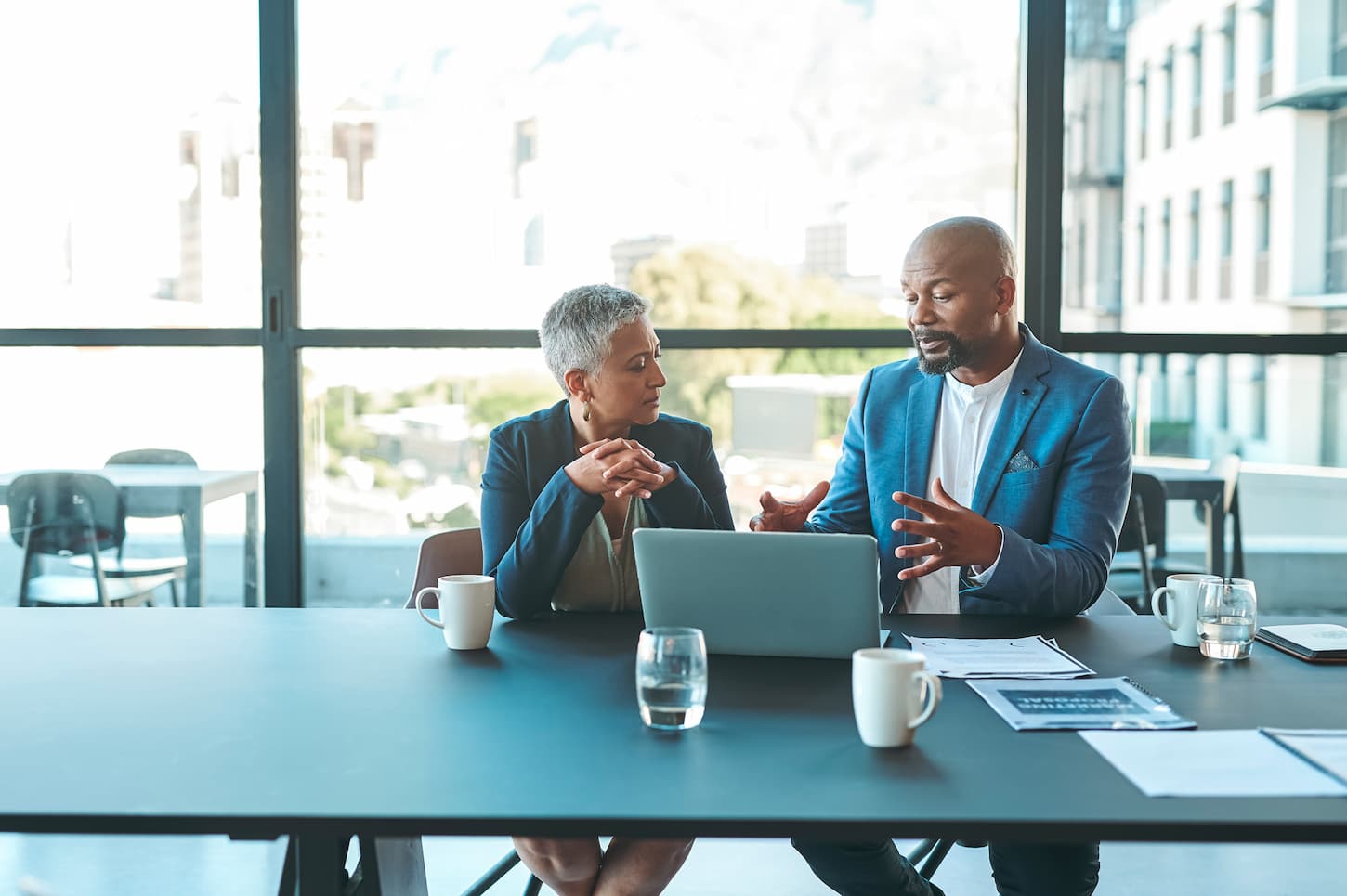 HR is responsible for countless organizational projects, DEI initiatives, employee success, hiring schedules, retention efforts, and more. And while they may not directly impact sales and growth, their initiatives create substantial value for an organization and often lead to improved long-term success and growth.
Read on to learn about HR's role in an organization and how HR professionals can effectively demonstrate value to the C-suite and organization as a whole.
How is HR Perceived in Your Organization?
How effective HR can be often depends on how you position HR within your organization. I know what you're thinking: What do you mean "position" HR? I report to who I report to and that's that. How I'm positioned just is what it is.
But that's not true!
How HR is perceived has a dramatic impact on how effective it can be in making positive contributions for the organization. In our research here at BerniePortal, we've identified four attitudes that employees hold towards HR at small employers:
1. Dumpster Attitude: The HR function is a dumping ground. In other words, employees don't give any respect to HR's role or the time it takes for HR to accomplish necessary tasks. For example, when teammates approach HR with the Dumpster Attitude, you're more likely to hear something like, "I need my computer fixed right now."
2. Barrier Attitude: The HR function is seen as one that gets in the way of employees getting their jobs done. Teammates try to steer clear from you as much as possible because the perception is that you only make their lives harder.
3. Facilitator Attitude: The HR function is viewed as one that can serve as a go-between for employees and more complex tasks. Under this attitude, employees acknowledge that you have responsibilities but still view you as someone who can make things happen for them, less like a teammate and more like a tool in the toolbox.
4. Enhancer Attitude: The HR function is seen as a source for valuable insights for employees and leadership. You're seen as an essential part of the organization that enhances every component of operations, culture, and more. Teammates seek out your input for a wide variety of tasks, problems, and processes.
Furthermore, where employees generally fall among these four attitudes generally relates to the answers to these three questions:
1. What is HR's mindset with respect to managers at the organization? Does HR view itself as a peer? Or a peon?
2. Does HR give employees good, easy-to-use software to use to complete the HR-related stuff HR needs? Sales leaders do. Marketing leaders do. Do you?
3. Is the President or Owner engaged in HR stuff? Or, put another way, have you engaged your boss in the importance of HR stuff?
5 Ways to Improve the Perception of HR
By using the following five tips to help employees move up the spectrum towards the Enhancer Attitude, you'll become so much more effective than your role permits right now. Here's how:
1. Start By Deciding You Want to Move in That Direction:
Michael Jordan didn't become the best basketball player of all time by accident. It took commitment. Effort. Practice. An intentional attitude that you need to adopt for yourself, one where you've decided that you want to be seen as more than just a dumping ground for your employees. This is square one.
2. Adopt an HRIS That's Easy for Your Employees to Use:
You can't expect to get great attitudes from your people if you're giving them poor tools to get HR-related stuff done. When an HRIS is easy to use for employees, HR spends less time each day helping troubleshoot questions and concerns that your team may have. This means that adopting a robust HRIS frees you from the administrative tasks that take a lot of time so that you can spend more time on the tasks that matter more.
3. Write a Culture Guide to Engage Leadership

:
Culture Guides
are where an organization codifies its
company culture
, from its
vision, values, and mission
to ho

w to leave the company with grace and how to turn on the printer. It's like an employee handbook but so much better and more helpful.
Writing a Culture Guide is the perfect way to get a disengaged owner or President fully engaged with HR stuff. Why? When you draft a Culture Guide and present it to leadership, the owner is immediately going to start marking it up. They'll see that you've put work and thought into the project—that you care about improving the employee experience. As a result, they're more willing to engage with the material itself and also with the broader topic of company culture.
It also gives you agency and repositions your role as one that's actively working to enhance the organization, not simply react to what happens to or within the organization.
4. Implement the Applicant Tracking Feature of Your ATS and Coach Managers on Recruitment: It's not enough to tell your managers to be better recruiters. HR needs to instruct managers on how to be more effective at bringing on the best new talent.
Finding and even landing great hires requires hiring managers to know what to look for in job candidates, how to use the ATS as effectively as possible, and how to make good hiring decisions.
This also creates more capacity for HR to focus on higher-value priorities—the kinds of tasks HR parties of one can and should be doing to elevate their roles and add value and enhance your perception within the organization.
5. Implement 1:1s and Serve as QA: When you overhaul your organization's approach to performance management—and serve as quality assurance to ensure managers are doing what they can to help develop employees—you're committing to employee success.
Ongoing 1:1s are the best way to ensure your teammates get the most out of their work—and demonstrate that HR is more than just a dumpster or a barrier.
Not only that, but you're maximizing the effectiveness of your own role in the process. You've given managers the tools they need to coach up employees to be better team members. You've also freed up time for yourself to focus on other strategic projects, like pretty much everything we've discussed throughout this series.
Once you've taken these steps, reevaluate. Does your staff see you as a peer or a peon after you've implemented and now oversee 1:1 meetings? Did the HRIS you adopted make your employees' lives easier? Is the owner more engaged now that you've written a Culture Guide?
As your role becomes more impactful within the organization, HR is more appropriately compensated for the value it brings to that organization. This can be accomplished by taking these five steps to shift how employees and leadership perceive HR on the team. When you move from a Dumpster Attitude to an Enhancer Attitude, you put yourself in a better position to make more money, make employees better at their jobs, and become more effective at your job. It's a win-win-win.
Additional Resources
You can also stay informed, educated, and up-to-date with HR news and other important topics by using BerniePortal's comprehensive resources:
Written by
Will Miranne
Will is an aPHR-certified writer on the marketing team at BerniePortal. He writes about healthcare, human resources, and benefits.