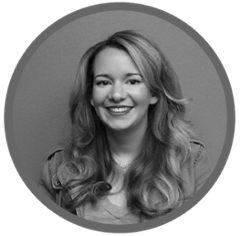 Written by
Sarah Weinstein
Sarah leads the BerniePortal marketing team. She writes about benefits administration, HR technology, and more.
Do employers still have to file 1095-Cs in 2019?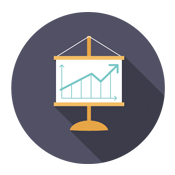 Introducing new HR Best Practices blog series
Have you ever found yourself Googling for the answer to a HR question and you still can't find a straight answer? Search no more! BerniePortal is launching a blog series to answer the most commonly asked HR conundrums. To help answer each question and define best practices, we have three HR heroes with very different paradigms. You may find yourself relating to one (or more) of our heroes depending on the given situation.
Let's see what Bythe, Sam, and Peggy have to say about our first question.
There have been some changes to the ACA, including the repeal of the individual mandate penalty beginning in 2019 and the expansion of short-term and association health plans, among other changes. These changes have had many employers asking - "Do I still have to file 1095-Cs?"
Meet our HR Heroes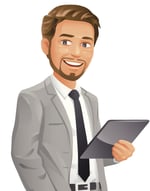 Bythe Booke:
Bythe's top priority above all is compliance. If there is a law and/or regulation, Bythe is following it - sometimes to a fault. Bythe is extremely risk averse and proactively implements compliance measures. Bythe has even been known to introduce complexity when there is no law or regulation in the spirit that "one can never be too careful."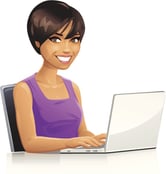 Sam Blackheart: Sam's top priority is the bottomline. She may find herself underestimating intangible risks such as public relations. If an HR issue arises, Sam just wants to know - how much would it cost if I'm caught and could I go to jail? You can find Sam crunching numbers and testing the limits.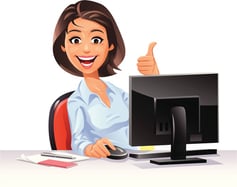 Peggy Prag: Peggy's top priority is practicality. Peggy approaches every situation objectively and operates with the understanding that when there is no black or white answer, sometimes you have to operate in the gray. You can find Peggy doing research and weighing the pros and cons.
Background of 1095-Cs
Starting in 2016, employers with more than 50 full-time employees are required to produce and send a second government form to employees — Form 1095-C. While the W-2's main purpose is to communicate pay information to the IRS, the 1095-C's function is to communicate health insurance information.
In addition, the form helps the IRS determine which employees were eligible for subsidies for individual health insurance during the year. Employees who were offered qualified coverage by their employers are not eligible for these subsidies in the months they were offered qualified coverage. If an employee claimed a subsidy anyway, the IRS can end up recouping the subsidy from the employee. On the other hand, if an employee claims a subsidy and has an employer that did not offer qualified coverage, the employer can expect the penalty.
Is there a law/regulation?
Yes, under the Affordable Care Act's employer shared responsibility provisions, employers with more than 50 full-time equivalents must provide minimum essential coverage and are required to provide information reporting via 1094-Cs and 1095-Cs.
What is the potential fine if I don't comply?
According to the IRS, if an employer files before August 1st, the non-filing penalty is $100 per return up to $1.5 million. After August 1st, the non-filing penalty is $260 per required return up to $3 million. For intentional disregard, the fine is $530 per return with no maximum limit.
What happens if I am not compliant?
You will be eligible for a fine from the IRS.
If caught out of compliance, what is the likelihood I have to pay it?
For employers who receive a Letter 226J - there is good news. If you can provide evidence you made a "good-faith effort" to comply you may avoid a fine. However, the good faith effort does not apply if you fail to file or provide employees forms by deadlines.
Is there a risk of a lawsuit?
The risk and likelihood of a lawsuit is very low.
What is the cost of compliance?
The cost of a 1095-C reporting solution ranges from no cost by doing it manually or with a system provided by your health insurance broker to $10,000+ for payroll and standalone systems.
Note on choosing a 1095-C solution: Many payroll and standalone products are offering 1095-C filing. However, these solutions on their own do not hold benefits information. This opens the door for manual data entry and errors. Choosing benefits administration software for the 1095-C is the best option for streamlining data while providing an array of other useful features throughout the year. Not all benefits administration software companies will provide 1095-C filing, so make sure you ask.
Is compliance black and white or is it gray?
For employers with more than 50 full-time equivalents - the requirements are black and white - your organization must file 1095-Cs.
What is the risk of bodily harm?
The risk of bodily harm is low.
What is the risk of negative public relations?
There is a risk of negative press if your organization receives a fine for not offering employees coverage. There is also the risk of employees negatively reviewing your company on employment review sites like Glassdoor.com for not offering health insurance coverage.
What is the risk of jail time?
The risk of jail time is very low.
What would our heroes say is the best practice for filing 1095-Cs?
Bythe Booke: Obviously your organization should file 1095-Cs if you are an Applicable Large Employer (ALE). If you aren't sure if your organization qualifies as an ALE, follow these instructions provided by the IRS and review your status annually.
Peggy Prag: For an organization with 60 full-time employees, the penalty fines could be $31,800 per year. Since a 1094-C / 1095-C reporting solution is significantly cheaper, it's worth paying a third party for reporting.
Sam Blackheart: Let's attempt a "good faith effort" but I don't want to spend too much time or money on this, let's outsource it.
Have a question you'd like to see our heroes answer next? Let us know in the comments section below!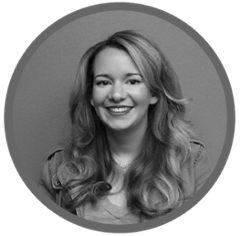 Written by
Sarah Weinstein
Sarah leads the BerniePortal marketing team. She writes about benefits administration, HR technology, and more.