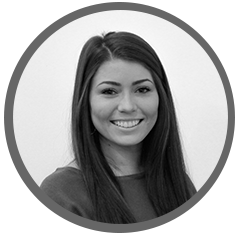 Written by
Courtney Cox
Courtney is an aPHR certified product marketer on the BerniePortal team who focuses her writing on all things HR.
Webinar Recap: COVID-19 Response, FAQs and Best Practices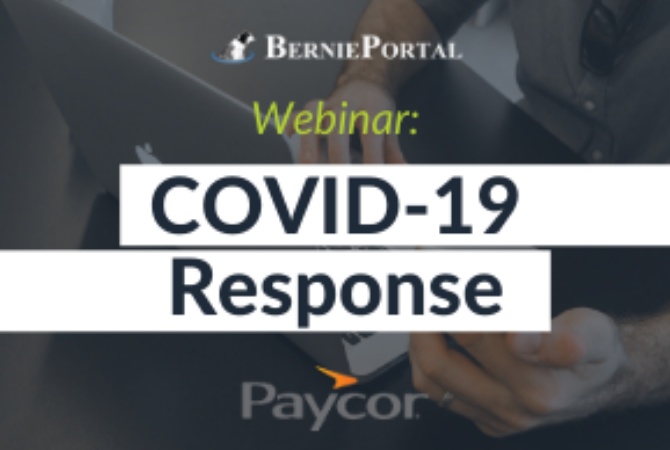 BerniePortal and Paycor hosted a joint webinar on best practices and HR FAQs in response to COVID-19.
COVID-19: HR FAQs and Best Practices
COVID-19– It's on everyone's mind. In this webinar, Paycor discussed workplace safety: now and through the return to work, policies and best practices, and tips for moving forward through the pandemic.


Keeping Your Workplace Safe
What should you be doing for your employees?
The CDC has posted guidance for businesses and employers and it's a great base to help you understand what you should be thinking about, including:
>> Have employees wash their hands at the door: If your employees are required to come to work it's important to have schedule hand washing to let them know you're committed to having a clean workplace.
>> Schedule disinfecting of frequently touched surfaces.
>> Research virtual meetings to mandate physical distancing.
>> Eliminating shared foods: company lunches, etc.
>> Cancel travel.
>> Use online business transactions when possible.



Sick Employees

What guidance can you give to sick employees?

Sick employees should be sent home, and expected to stay there while they seek guidance from their healthcare provider.
If an employee is diagnosed with COVID-19 do we tell everyone else?

Assess the situation and inform employees of potential exposure. This is a sensitive topic and names shouldn't be mentioned.


Coming to Work
Can employers take employee temperature or ask about employee symptoms?

Yes! But be sure to stay within the confines of the COVID-19 precautions.
Employees are afraid to come into work, can we make them?

Yes! As long as there is no legitimate know threat at work and they don't require a specific accommodation.
---
COVID-19: Policies and Procedures
Work From Home Policies
Now is the time to have a work from home policy. Here's what you should address:
>> Hours of work: Do you want them to work their regular hours? Are you willing to offer slightly more flexibility on "when" that work is done? Specify your expectations.
>> Expectations regarding reach-ability: Do you want them IM-able? by phone? Make sure they understand what's expected.
>> Check-ins: Do you want them calling their managers and subordinates? How often?
>> Expenses: Make sure you tell them what you're willing to count towards expenses.

Require Employees to Wear Masks
It IS legal for businesses to require that employees wear masks however, employers need to be aware that mandating masks may make them subject to OSHA standards related to Personal Protective Equipment, meaning you must:
>> Carry out a hazard assessment
>> Consider alternatives (like plexiglass)
>> Provide the masks
>> Train employees how to wear the masks
>> Clean and maintain masks
>> Cover all associated costs


Returning employees are likely to have a lot of questions. As well as stating all necessary facts, take this opportunity to reassure them about what's changed (and what hasn't) when it comes to their place in the organization, their salary, benefits package, and how you will be ensuring workplace safety.
>> An employment offer
>> Return to work date
>> Terms of employment
>> What's changed and what hasn't
>> Benefits status
>> New safety procedures
>> Reassurance

Create a Re-Hire Policy
A rehire policy involves bringing a former employee back onboard to work for your company. There are many situations where this would make sense:
>> Voluntary resignation
>> Rehire after layoff
>> Expired contracts
>> Termination based on other factors besides performance or unethical behavior

---
Moving Forward
Seven Things Businesses Should Do Now
>> Create an Internal Crisis Management Team
>> Protect your employees in the workplace
>> Maximize your employee's ability to work from home
>> Develop effective channels for employee communication
>> Reschedule events and meeting or switch to virtual conferences
>> Make sure all supervisors and managers are adequately trained
>> Employee travel planning

Watch the recording of the webinar!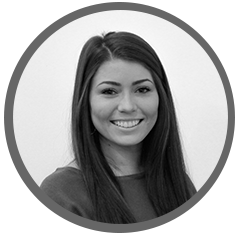 Written by
Courtney Cox
Courtney is an aPHR certified product marketer on the BerniePortal team who focuses her writing on all things HR.