Written by
Bretton Chatham
Bretton is an aPHR-certified member of the Marketing Team at Bernard Health. He writes about HR, compliance, and benefits solutions.
5 Ways to Improve HR's Reputation in Your Organization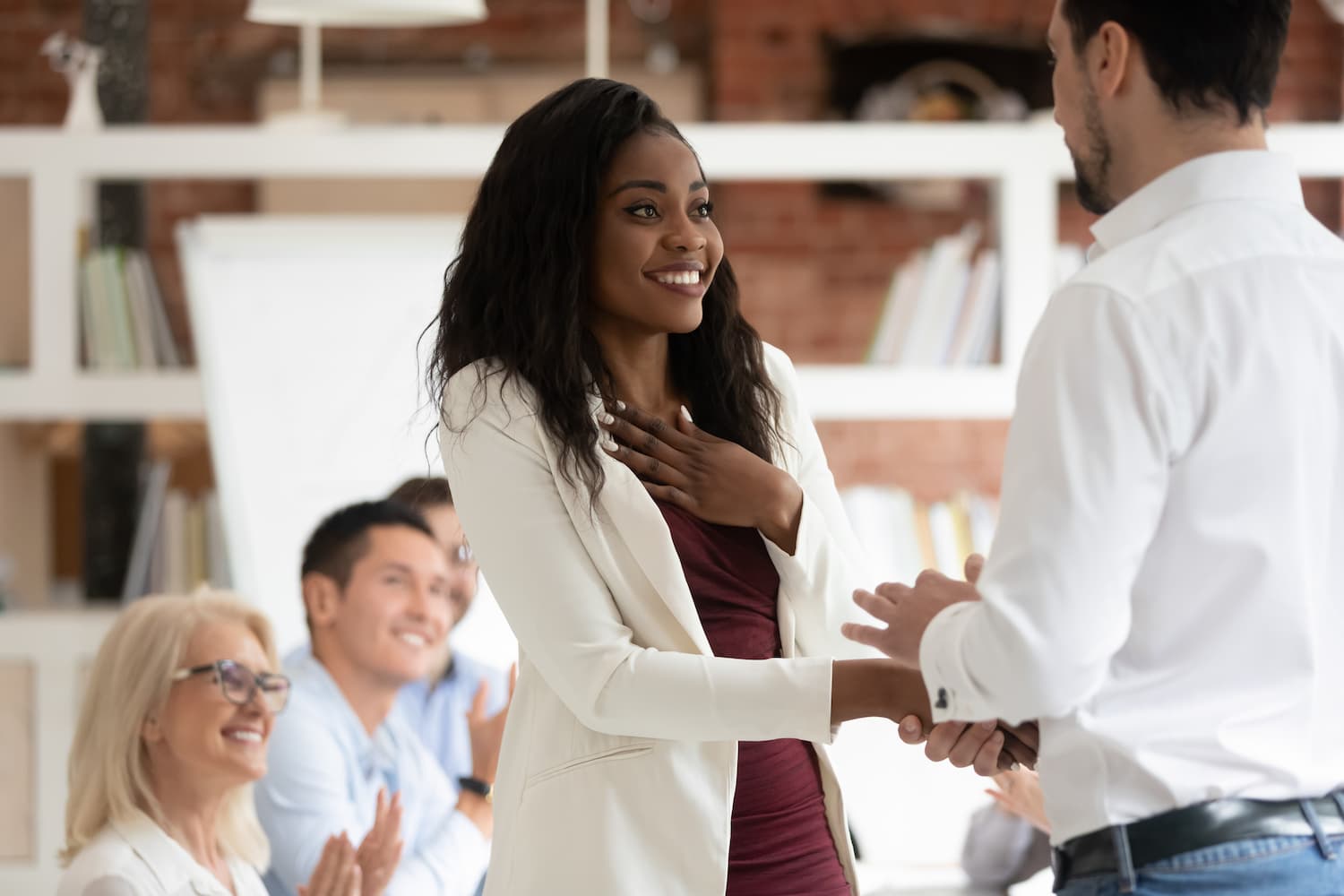 Fair or not, your team has to confront negative HR stereotypes from pop culture whenever you engage employees. But you have the power to improve how HR is perceived in your office.
Here are five practical ways you can establish accountability and enhance HR's reputation in your organization.
This article is part of a series on HR Leadership. Read more here.
5 Ways to Improve HR's Reputation in Your Organization
Like anything worthwhile, building HR's credibility within your organization will take time. You won't be able to flip a switch and suddenly spotlight your effectiveness. But if you implement these five strategies, you'll find that, over time, you can steadily build up HR's reputation in your organization.
1. Adopt an HRIS to Empower Others (and Enhance Your Role)
Using a robust, all-in-one human resources information system—or HRIS like BerniePortal—is key to building HR's reputation over the long term. With an HRIS, you can conduct quality assurance checks, which makes employees better in their own roles and elevates yours to be more strategic.
BerniePortal can make managers more effective at their jobs by using our Applicant Tracking System (ATS) to streamline recruitment and fill positions efficiently and effectively.
Our Performance Management feature also facilitates discussions between managers and their direct reports, which empowers employees to take ownership over their projects and development. Weekly 1:1 meetings can be a powerful strategy for improving communication, setting expectations, and establishing accountability within your organization.
Not only that, but employees are empowered to select benefits on their own during open enrollment and qualifying life events. They can clock in and out and request time off, all within the same system.
An HRIS like BerniePortal will save HR time on administrative functions and allow you to focus on more strategic goals for your team and your organization.
2. Create a Culture Guide (and Keep It Up to Date)
In the modern workplace, employees are not motivated by what their employer needs to do to merely remain compliant. Instead, workers need to understand why their work matters and how it's making an impact on the world. This is beyond the scope of even the best employee handbooks…which is why your organization needs something better: a Culture Guide.
A Culture Guide covers the compliance and procedural concerns of the typical employee handbook, but it goes much deeper than that—into the history of an organization, its vision and mission, norms, and even how to leave the organization with grace.
It can give your workforce the key to a healthy company culture—a sense of shared purpose and belonging. It can even help new hires connect to the printer.
HR should own this process and document completely. It's your responsibility to review and share reasons behind rules and changes. Present on it in company meetings, and explain your role in quality assurance efforts. You should even make updates and encourage employees to suggest changes if needed.
For a deeper dive, download your free copy of HR's Guide to Culture Guides today. This ebook includes step-by-step instructions for writing your own and next steps for how to use it.
You should also use an HRIS to ensure that teammates can locate the Culture Guide at any time and even sign forms indicating that they've read it.
3. Establish Reporting Metrics (and Meet Your Goals)
Another great way to establish accountability is to determine reporting metrics that reflect some portion of your performance.
For example, BerniePortal requires teammates to read Eat That Frog! by Brian Tracy. The book explains how procrastinators often wait until the very last minute to do the biggest, most important tasks. Tracy uses the evocative image of eating a frog to illustrate his point. If you had to eat a live frog every morning, you might wait as long as you could to eat it! But Tracy argues that you should do the opposite. Eat it first.
Each month, the different departments on our team report on our "frog goals." These are the biggest, most important goals we take on each month.
For example, HR's frog goal is tied to responsiveness, tracking the time it takes to respond to inquiries that HR receives. Having one central inbox for HR is invaluable in reaching these goals.
This benchmark also communicates the same message to our team, that HR values their time and wants to help them out.
4. Collect Survey Feedback (and Act on It)
You can also conduct surveys to identify how HR is performing according to employees' perceptions.
You can set your survey up to be anonymous, which can increase engagement and encourage honesty. But keep in mind there are culture-building opportunities in following up with individuals who give particularly low scores to the company.
When you write these surveys, you'll want to make sure that you aren't asking questions that give away the game. For example, instead of asking, "In your opinion, is HR doing a good job?," you should ask something like, "Do you feel supported by the organization on a day-to-day basis?"
The first question is a bit too obvious and may lead employees to think they're being tested or that they'll get into trouble if they respond "No." The second question may not explicitly address your performance, but when team members respond to it, they're implicitly thinking about how HR supports them.
BerniePortal has a Survey feature that simplifies the process and keeps answers secure.
5. Be Fair When Granting Special Requests (and Handle with Care)
This is a big one. Every single day, you must use your judgment regarding making exceptions to certain rules and requests.
Remember, consistency is key. If two people approach you with the same request and you grant one and not the other, employees will eventually call you out on not being fair.
It can be tempting to explain to employees why you're willing to grant certain requests and not others, but keep in mind that you must also protect the privacy of workers. Also, overexplaining can come across as defensive and undermine your effectiveness.
It's better for your team to be consistent rather than granting one request here and denying another one there. Inconsistency can hurt employee morale and engagement, so remember to be careful when considering special requests.
What Else Can HR Do to Improve Its Reputation in Your Organization?
Finally, make sure you stay up to date with all the latest tips and trends in the industry by earning HR certifications. It gives you credibility with employees, demonstrates personal development, and shows that you're committed to compliance.
You should also check out BernieU, BerniePortal's continuing education program that's free, online, and approved for SHRM and HRCI recertification credits. Topics cover everything from HR strategic planning to 1095-C compliance and more.
These are major steps for an HR professional, but they communicate to your team that you're serious about making their lives easier and making them more effective in their own roles.
You may not be liked by everyone, but you can be certain these strategies will help you become a respected—and invaluable—member of your organization.
Additional Resources
You can stay informed, educated, and up-to-date with important HR topics using BerniePortal's comprehensive resources:
Written by
Bretton Chatham
Bretton is an aPHR-certified member of the Marketing Team at Bernard Health. He writes about HR, compliance, and benefits solutions.